General education minister announces dates for primary certificate exams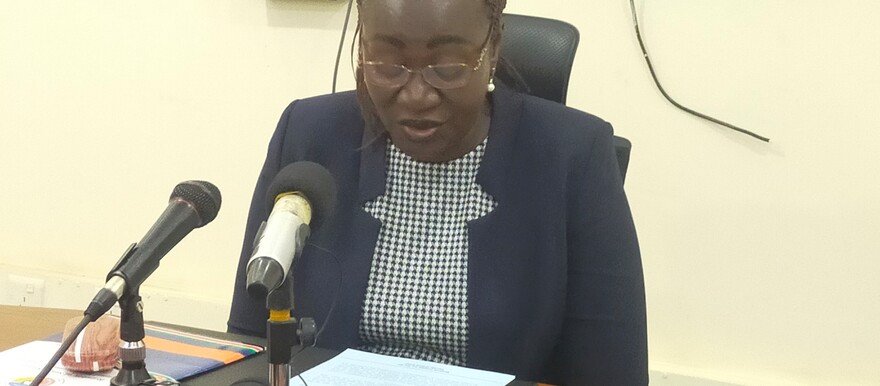 South Sudan Minister of General Education and Instruction, Minister Awut Deng Acuil addressing the press on 25 January 2023. [Photo: Radio Tamazuj]
The national minister of General Education and Instruction on Wednesday announced that the 2022 Certificate of Primary Education (CPE) examinations will commence on Monday 13 February and conclude on Friday 17 February 2023.
Minister Awut Deng Acuil who was speaking during a press conference at the ministry's headquarters in Juba also tasked security personnel to ensure the integrity of the exams.
"On behalf of the South Sudan National Examination Council and my own behalf, I take this opportunity to inform the candidates, parents, and all stakeholders that all processes of the 2022 Certificate of Primary Education (CPE) examination have been put in place and the examination administration dates have been fixed. The examination begins on Monday 13 February 2023 and ends by Friday 17 February 2023," she said. 
"Statistically, there a total of 60,714 candidates, 34,505 males and 26,209 females, have dully registered for the examination despite security challenges and flooding in most parts of the country."
Minister Deng called on the teachers, invigilators, and security operatives to maintain the integrity of the exams.
"I would also like to draw special attention to the supervisors, invigilators, security, and police that the assessment of students and the integrity of the examination processes are of great significance to the South Sudan National Examination Council," she cautioned. "You play a central role in helping the Council to ensure that security is maintained and examinations are concluded in an appropriate manner that allows the candidates to sit for the examinations in a suitable environment."
Relatedly, the general education ministry also announced the dates for the 2023 academic year.
Martin Tako Mayi, the deputy minister, said they are reverting to the old academic calendar pre-Covid-19 pandemic.
"The new academic year will commence on Monday 6 February and end on Friday 22 December 2023. During the conduct of Certificate of Primary Leaving Examinations, teaching will be suspended in schools that have been designated as examination centers," he said. "However, we expect the teaching to continue normally in the rest of the primary schools that are not examination centers. Teaching is expected to resume in schools that will serve as examination centers after the examinations."
Deputy Minister Tako urged private schools and state ministries of education to strictly adhere to the new academic calendar.
"We had a difficult situation last year when we decided when the new academic year would start but some schools, especially private schools, decided to start even before the results of the Certificate of Primary Education were announced. They started to recruit first years in secondary schools based on criteria difficult for us to ascertain but we since have taken serious measures," he said. "The law allows for our academic calendar to start in February and end in December. This is in coordination with our region, and we are in the East African Community (EAC), so anybody who goes against this breaks the law and the law will take its full course."