Juba IDPs decry worsening conditions due to inadequate food, water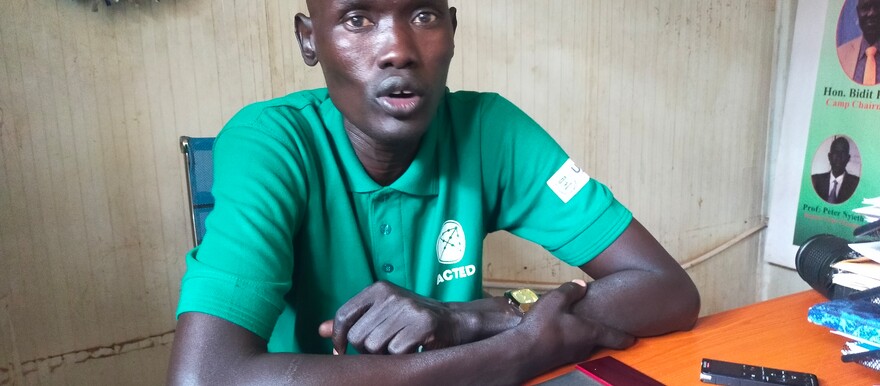 The Deputy Chairman of IDP Camp 3 in Juba Mayian Gatluak Lony speaking to Radio Tamazuj this week. [Photo: Radio Tamazuj]
Internally Displaced Persons (IDPs) at the United Nations camp in Juba are complaining of worsening humanitarian conditions saying they are hungry and lack enough water. 
Speaking exclusively to Radio Tamazuj Mayian Gatluak Lony, the Deputy Chairman of Camp 3, said they have not been given food rations for the last four months.
"We have a challenge of food, we have had almost four months without food ration since last year in August up to now. But in the last few days, the World Food Program agreed to provide us with food but we are still not sure if we will get it. This is a challenge," Gatluak said.  
Gatluak noted that women leave the camp to collect firewood which they come to sell within the camp to earn a living. 
He further complained that insecurity is rampant in the camp in addition to inadequate water supply and health services for all the 
people in the camp. 
Asked when they plan to leave the camp, Gatluak said: "In the peace agreement, there is Chapter 5. If this is not implemented we will not leave the camp. We are not ready to go until there is real peace in the country."
For her part, Maria Nyataba, the Women Desk Representative at Camp 3 complained of the appalling situation in the camp. 
"Life in the camp is very hard because of bad accommodation and overcrowding. The general situation is not good but we have no choice other than to stay in the camp," she lamented. "We do not have homes in the city and most of our areas are flooded, so we have nowhere to go."