Peacebuilding ministry, UN launch peacebuilding fund joint steering committee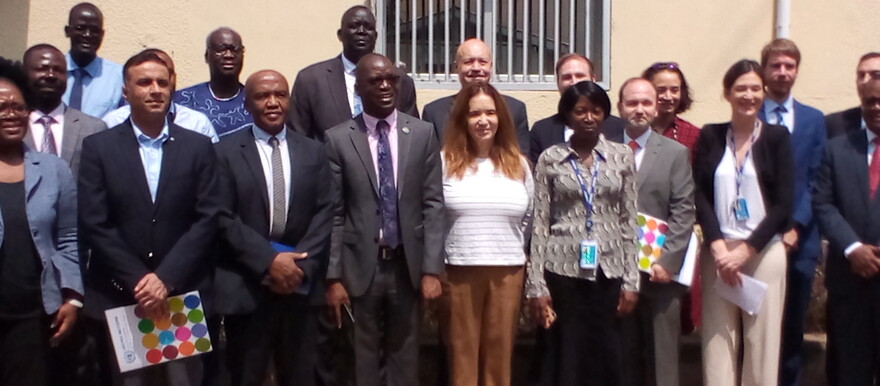 [Photo: Radio Tamazuj]
South Sudan's Ministry of Peacebuilding in collaboration with the United Nations on Wednesday launched a peacebuilding fund (PBF) Joint Steering Committee (JSC) aimed at coordinating and facilitating activities towards lasting peace. 
Speaking during the launch of the PBF Joint Steering Committee, Pia Philip Michael, the Undersecretary in the Ministry of Peacebuilding on behalf of Minister Stephen Pal, said the purpose of the committee is to ensure coordination between the government and the partners on priority activities.  
"The role of the peacebuilding fund joint steering committee can be summarized into two: strategic oversights and number two is to oversee and guide the planning and implementation of the peace projects," Michael said. 
According to Michael, the committee will also ensure that there is maximum coordination among the donor partners. 
"This also takes coordination and collaboration of peacebuilding actors around the different peace projects to identify critical peacebuilding gaps, to provide strategic policies to the government and vice versa," he added.
Jutta Hinkkanen, representing the Deputy Special Representative of the Secretary-General, commended the government of South Sudan for the successful application that enabled the UN Secretary General's peacebuilding Fund in 2021.
According to Hinkkanen, the Peacebuilding Fund (PBF) has supported South Sudan since 2011 to fund urgent peacebuilding activities before and immediately after independence, based on the Peacebuilding Support Plan. 
In May 2021, following a request from the government, South Sudan was declared eligible for support under the Peacebuilding and Resilience Facility (PRF) of the PBF for five years. In 2021 alone, the PBF approved over $16 million in peacebuilding investments, making the country the largest recipient of PBF funds that year, and the 12th largest since its inception. Through its investments, the PBF supports the implementation of the Revitalized Agreement to Resolve the Conflict in South Sudan.
For her part, Brenda Engola, PBF Coordination Specialist, said PBF priority areas for South Sudan in 2023 include supporting the electoral process, protecting and expanding civic and political space, trauma healing, and peaceful return of refugees among others. 
She said the ongoing peace projects in South Sudan amount to $30 million. 
"So, in terms of ongoing investments in South Sudan, we currently have about 10 active projects totaling over $30 million," she said. "The focus areas include strengthening national democratization, strengthening justice and accountabilities processes, addressing conflict related to displacement, and strengthening local peace."
The PBF joint steering committee is co-chaired by the Ministry of Peacebuilding and the Resident Coordinator. Other members include heads of UN agencies, national and international NGOs, interested donors and International Finance Institutions.