UN Secretary-General appoints Ramtane Lamamra of Algeria as Personal Envoy for Sudan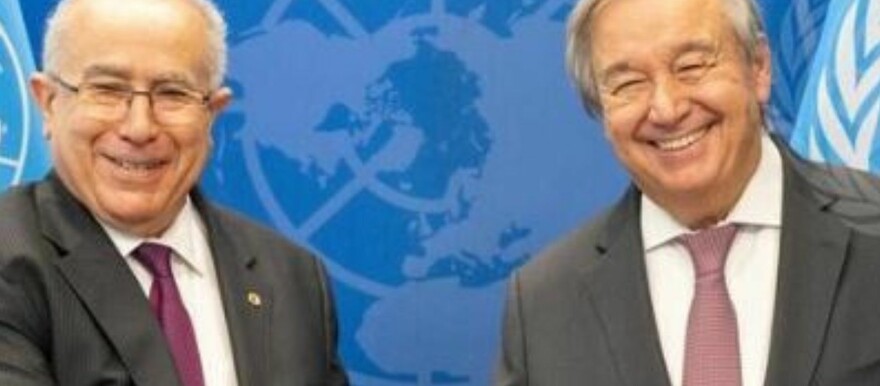 UN Secretary-General Antonio Guterres (L) and Ramtane Lamamra of Algeria (R). (UN photo)
UN Secretary-General Antonio Guterres over the weekend appointed a personal envoy for Sudan following Khartoum's demand to shut down the UN Integrated Transition Assistance Mission in Sudan (UNITAMS), the UN's political mission in the war-torn country, a UN spokesman said.
Stéphane Dujarric, Spokesperson for the Secretary-General, on Friday, announced that Guterres appointed Ramtane Lamamra of Algeria to the position.
"And I also want to announce an appointment that has been in the works for some time now," he said. "The Secretary-General is also appointing Ramtane Lamamra, of Algeria, as his Personal Envoy for Sudan."  
The spokesperson also said that confirmed that the UN indeed received a letter from the Government of Sudan announcing the Government's decision to "terminate UNITAMS.
"UNITMAS is our special political mission in Sudan. The letter says that they are "terminating UNITAMS with immediate effect". They also communicated their commitment to engage constructively with the Security Council and with us, the [United Nations] Secretariat, on a new, appropriate, and agreed-upon formula," Dujarric said. "As you will recall, the political mission, UNITAMS, was established by the Security Council pursuant to resolution 2524 (2020) in June 2020 and its current mandate ends on 3 December of this year."
"As mentioned in the Security Council briefing yesterday (Thursday) by Assistant Secretary-General, Martha Pobee, the Secretary-General has appointed Ian Martin to lead a strategic review of the UN Mission in Sudan to provide the Security Council with options on how to adapt the Mission's mandate," he added.
He said the UN will continue to engage closely with all actors, including the Sudanese authorities and members of the Security Council, to clarify the next steps.  
"As you know, of course, it is the Security Council that gives the Secretariat the mandate to operate peacebuilding, political missions and peacekeeping missions," Dujarric noted.