Floods displace over 3,000 people in Bor Town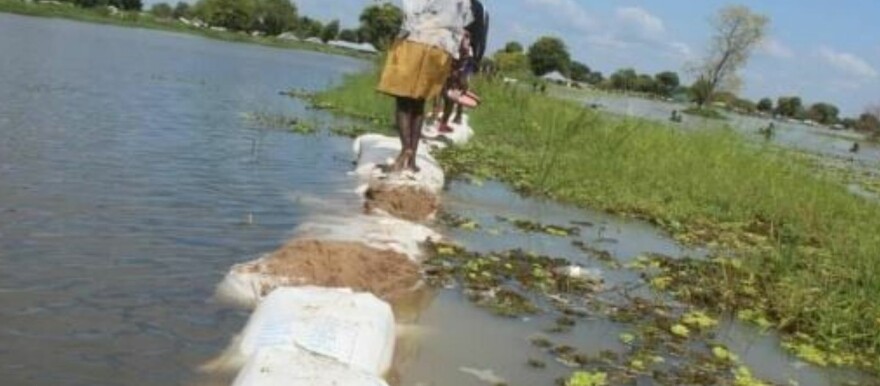 Women walking on a dyke that was overtaken by Nile River waters in Bor. (File photo)
Fresh floods have displaced more than 221 households in parts of the Jonglei State capital, Bor, since last week after the Nile River bursts its banks and destroyed a section of the dyke built to protect the town.
Speaking to Radio Tamazuj, Gabriel Deng Ajak, the state information minister and the head of the Flood Management Committee (FMC), said those displaced remain without food and shelter.
"The flooding started two weeks ago as the River Nile burst due to the rising water in Lake Victoria. The dyke which protects residential areas got broken, flooding areas of Achengdiir and Malou," he explained. "221 households have been displaced and they are integrated into the houses of their friends and relatives in other parts of the town."
"The displaced people lack food and shelter," Deng added.
The state official however pointed out that they are working with partners so that the affected people are assisted with food, pointing out that the damaged sections of the dyke had already been fixed.
Meanwhile, John Makuei Alier, a local chief in Achengdiir, said their situation is dire.
"Areas like Achengdiir, Leudiar, Malou, Langbar, and Lengguet are affected and more than 17,000 people have been displaced," he said. "The situation is dire without food and shelter."