South Sudan Cabinet approves SSP 1.3 trillion 2022/23 budget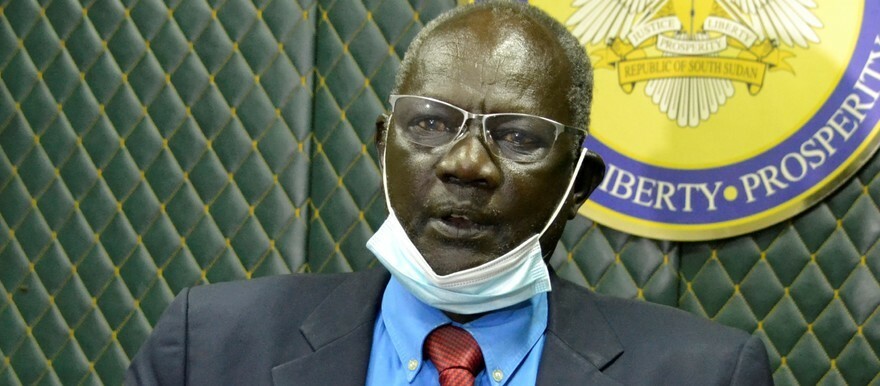 Information Minister Michael Makuei. (File photo)
The South Sudan council of ministers on Friday approved and passed a budget of SSP 1.3 trillion for the 2022/2023 fiscal year, information minister Michael Makuei said.
The amended budget was presented to the cabinet during its regular meeting last Friday by finance minister Agak Achuil Lual after a review and reconsideration of priorities resulted in the addition of SSP 558 billion. Almost two weeks ago, the finance minister tabled to cabinet a budget of SSP 862 billion for the 2022/23 financial year.
Minister Makuei while addressing the press after the cabinet meeting said the budget was passed with amendments and the finance minister was directed to present it again in its final form.
"The amount presented is within the budget chapters. The gross available resources are Eight Hundred and Thirty-two billion, Eight Hundred and Six million, Nine hundred and Thirty-five, Six hundred and Seventy-eight (832,806,935,678) South Sudanese Pounds (SSP). These are the available resources which are part of the budget," he said. "The budget is also budgeted on a deficit, there is a financial gap which is added to the sum of Five hundred and Fifty-eight billion, Six hundred and Sixty-nine million, Nine hundred and Eighty thousand, Seven hundred and Seventy-four (558,669,980,774) SSP."
He said the final budget, after review and addition of priorities, will amount to SSP 1.3 trillion.
"The deficit will be covered by increasing the collection of the non-oil revenues and by increasing production in the oil sector and also if possible, by borrowing from other countries in order to cover the cost," he said.
Makuei said the finance minister has been fully authorized to source funding to cover the budget gap.
"After thorough discussions, the budget was passed and the minister of finance is directed to find other sources of funding for the financial gap in addition to that the other revenue-generating institutions such as the Ministry of Petroleum and the National Revenue Authority are directed to increase their revenue collections and generations so that this budget is unveiled," he added.
Minister Makuei revealed that after the discussion of the budget, the issue of salary increment surfaced but that a technical committee was formed to tackle it citing that the 100 percent salary increment in the past did little in the face of rising market prices.
He said the SSP 1.3 trillion budget will prioritize the implementation of the peace agreement and unveil the necessary resources for agriculture, food security, and roads among others.