Justice ministry receives nearly 20,000 laws, legal forms printed by EU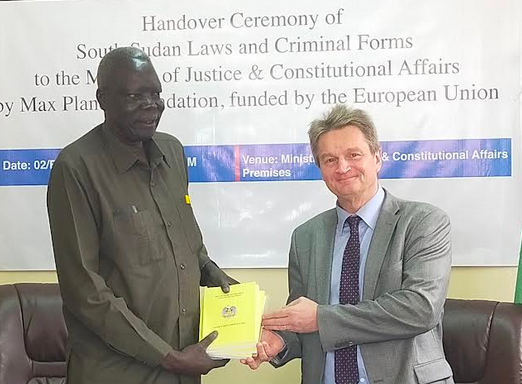 Justice Minister Ruben Madol Arol (L) received the printed laws from EU Ambassador Timo Olkkonen (R). (Photo:Radio Tamazuj)
The Ministry of Justice and Constitutional Affairs on Thursday received nearly 20,000 laws and legal forms printed by Max Planck Foundation through funding from the European Union (EU).
Speaking during the handover at the justice ministry`s headquarters in Juba, Timo Olkkonen, the EU Ambassador to South Sudan, said printing of the laws and legal forms will increase access to legal resources for the people and the public institutions.
"The review, editing, and printing of a total of 19,878 key pieces of South Sudan national legislation and legal forms for the ministry of Justice is part of the EU`s and Max Planck Foundation's ongoing engagement with the Ministry of Justice to enhance the availability of and access of important legal resources for the ministry's staff and governmental institutions and the general public at large," he said. "The importance of the legal forms in itself in terms of improving the access to justice for the people of South Sudan, I do hope that this will be a landmark occasion also in assisting the people of South Sudan to access the justice in case of need, and where there is a need."
He said The Max Planck Foundation will continue working closely with the directorate of legislation and the Ministry of Justice to provide technical support for the publication and republication of additional legislation as requested by the Justice Ministry
On her part, Dr. Kathrin Maria Scherr, the Managing Director and Head of Sub-Saharan Africa Projects at the Max Planck Foundation for International Peace and the Rule of Law, said they were able to print and reprint laws and criminal forms ranging from key pieces of legislation such as the Penal Code Act, the Civil Registry Act, the Local Government Act, the Code of Evidence, Appeal Form, Summon to a witness, Summon to an accused person and Warrant of Arrest among others.
"The laws will provide officials, lawyers, judges, magistrates, and citizens across South Sudan with ready access to the applicable regulatory framework in South Sudan and will in turn go a long way in facilitating greater order and unity in the development and application of the law in South Sudan," she said. "By publishing these laws, the ministry of justice can be seen leading by example. Having public and accessible laws allows the citizens of South Sudan to understand the regulatory framework applicable to them, provide for greater economic opportunity, ensure equality before and during the legal process, and bring force to the rule of law."
Meanwhile, Justice Ruben Madol Arol, the justice minister, said it is the role and duty of his ministry to ensure that the laws that are enacted in South Sudan are made available to the citizens.
"They say ignorance of the law is not an excuse but if you do not have the law, you do not know where to get it, then ignorance of the law may be an excuse in a situation like that," he said. "If we are to function as an institution, we have to have the laws available to our staff and I believe that now that we have these printed pieces of some of our laws and the legal forms, it will mark the beginning of the reforms in the Ministry of Justice and Constitutional Affairs."