Kiir Pardons 71 prison inmates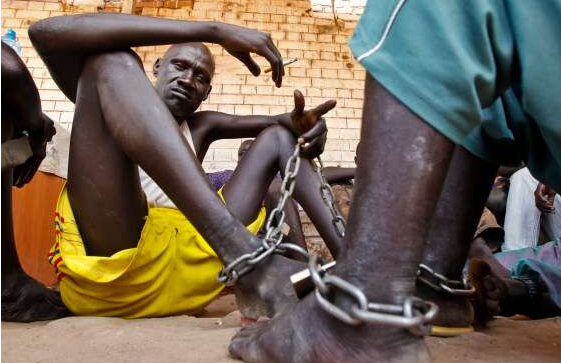 Shackled inmates sit in the yard in Rumbek Central Prison in Rumbek, South Sudan, (Photo/EPA)
President Salva Kiir Mayardit on Friday pardoned 71 inmates who were serving different sentences.
In a decree read on the state-owned South Sudan Broadcasting Corporation (SSBC), Kiir pardoned 36 inmates on death row and 35 inmates who failed to pay compensations or fines.
He ordered prison authorities to execute the order accordingly.
No reasons were given by the head of state for the pardon but earlier in the day President Kiir received and met with the head of the Catholic Church, Pope Francis, Archbishop of Canterbury Justin Welby, and the Moderator of the General Assembly of the Presbyterian Church of Scotland Rev Iain Greenshields.
The inmates on death row who were pardoned are;
Paul Pitya Ladu
Moses Ohiti Lowa
Abrahman Marino Lawrence
Wilson Elias Mope
Serjina Wani Tombe
John Kute Okenyi
Juma Lorichok Loporinga
Fiden Frugonibe
Fortonaso Kisiano Naigba
Majak Gang Majak
Charles Otien Yaweri
Angu       Awuoi Angui
Alfred Gabriel Tong
Martin Dak Othwol
Abdallah Sogar Ahmed
Cosmas Aiomani Mope
Gordon Mangar Nhial
Aguek Mou Aken
Cosmas Wala Jakibula
Moses Tongun Laku
Garbino Jagwer Nyambur
Joseph Lagu Gore
James Ladu Gabu
Francis Tongun Gabriel
Mudesir Khalifa Ismail
David Loro Wani
Amal Oporo Orwanaga
Martin Ohisa Kwato
Samuel Richard Zacharia
Simon Samuel Paka
Repent Ezbon Benjamin
Stephen Kenyi Erkima
Albino Lokoleng Lokobas
Joyce Simon Wani
Nakujet Amera Kangole
Santino Laku Marial
Inmates sentenced to pay fine or compensation
Andria Chol Lat
John Samuel Lojom
Wani Enisiose Erkanjelo
Nakoi Geoffrey Simon
John Lat Makoi
Ring Acuil Majok
Nyar Tong Yai
Comboni Atanasio
Sabri Khamis
James Ladu Wani
Nhial Mabior Nhial
Kazi Agustino Makario
Junag Nyapoth
Kaziwa Nyakiyoko
Philip Sebit Ladu
Garbino Deri Bero
Achol Garang Ayei
Kon Isaac Chol
Loki Anyei Ajik
Sabir Michael Bakhit
Sunday Alayim Majing
Martin Tong Majak
David Morris Pitia
Abdrahman Asaballah
Adut Deng Mayik
Flex Yogu Zachariah
Lobojo Simon Duku
Maturu Deng Mapor
George John Francis
Kaziwa Marol
Rehmus Wilson Thomas
Lingco Anguei Makur
Sunday Samuel Juma
Samuel Malong Biel
Dominic Arkanjelo