UNMISS peacekeepers conduct free medical camp in Wau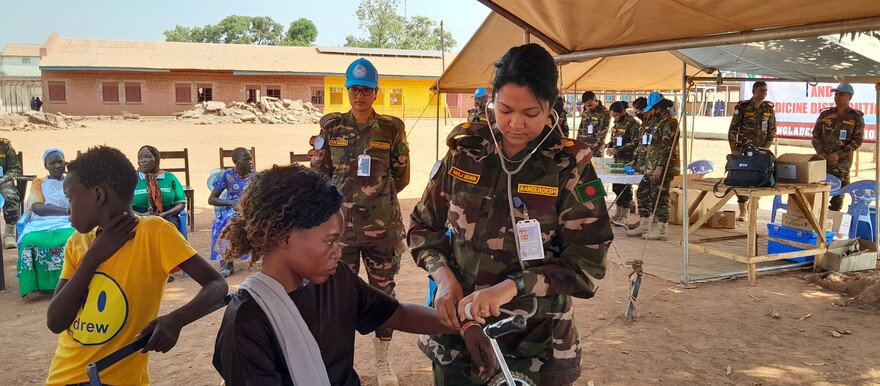 Wau residents receiving free treatment and medicine at a medical camp by UNMISS Bangladesh battalion on 13 March 2023. [Photo: Radio Tamazuj]
The Bangladesh battalion of the United Nations Mission in South Sudan (UNMISS) peacekeepers conducted a free medical campaign in Wau, Western Bahr el Ghazal State on Monday.  
Speaking at the Wau Youth Centre where the medical camp is taking place, the Banbatt Six Civil-Military Coordination officer Major Mizan Mizan said the medical camp targets the vulnerable in society. 
"Today, we are conducting a medical support campaign for underprivileged men and women of South Sudan at the Youth Club of Wau. We are treating common diseases like skin diseases, malaria, eye problems, and digestive disease," he said.
Major Mizan added that UNMISS continues to offer humanitarian support to South Sudanese in various parts of the country.
Sadiq Yaya, one of the beneficiaries, thanked UNMISS and said the people of Wau who cannot afford to buy medicines can access them at the camp. 
"I am happy that UNMISS brought us medicines at the youth center. It is difficult to get these medicines in the health pharmacies or at the clinics, but today I am very happy I have got the treatment for my body pains," said Yaya.
Meanwhile, Bakhita Dibanzi, who suffers from different ailments said she could not afford treatment at the hospital but was able to get medication today. 
"I suffer from back pain but today I thank God because I got medicines. I am happy because if it was at the main hospital I could not afford the medicines," said Dibanzi. "I also got medicines free of charge for my eyes and cough."