Sudan launches fresh air strikes on South Sudan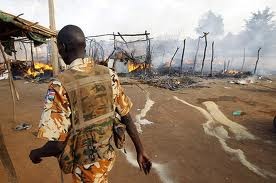 Three people were killed when Sudanese warplanes launched air strikes on South Sudan on Monday, three days after Juba ordered the military withdrawal from the disputed border area of Heglig.
A Reuters reporter outside Bentiu said he saw fighter jets drop two bombs near the bridge linking Bentiu and Rubkona.
He said he could 'see market stalls burning in Rubcona in the background and thje body of a small child burning.'
Mack Paul, South Sudan's minister of intelligence said two Sudanese planes dropped foru bombs on the area.
He said this was 'a serious escalation and violation of South Sudan's territory, a clear provocation.'
Sudan has denied the accusations and said it had repulsed a major attack in a strategic town by rebels backed by South Sudan.
The US has urged Sudan to 'immediately stop bombing' South Sudan, after Monday's attack killed two people.
In a statement, US state department spokeswoman Victoria Nuland said Sudan must immediately stop aerial bombardments and artillery fire on South Sudan.
She said they the two parties must return to the negotiating table.