SPLM-IO launches secretariat, party registration in Aweil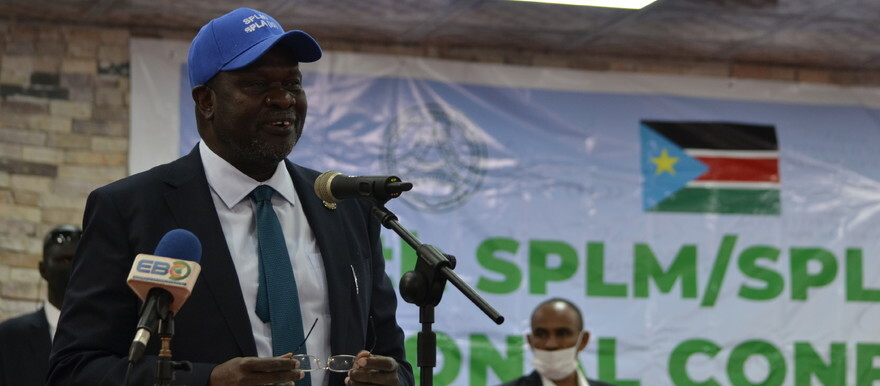 First Vice President and Leader of SPLM/A-IO Dr. Riek Machar addressing participants at the 6th SPLM/A-IO national conference in Juba on 01 Dec. 2020. [Photo: Radio Tamazuj]
The Sudan People's Liberation Movement in Opposition (SPLM-IO) headed by the First Vice President Dr. Riek Machar Teny launched its secretariat and party registration in South Sudan's Northern Bahr el Ghazal State on Friday, a party official confirmed. 
SPLM-IO Secretariat-General Regina Joseph told Radio Tamazuj after the launch that her party members in the state turned up for the ceremony despite restrictions on political activities. 
"We came here to launch our secretariat at the state level, that is why our members are so excited to come and see how the launching is going even though there is a problem in the political space here because some of the members were prevented to come and some were beaten. We condemned that," said Joseph.
Nicola Ngong, the SPLM-IO spokesperson in Northern Bahr el Ghazal state said: "We are so excited and honored to receive our delegation from Juba headed by the speaker of Council of States Deng Deng Akon and Secretary General for the Sudan People's Liberation Army in Opposition(SPLM-IO) Regina Joseph." 
A party member, Garang Alich, said, "I am very happy indeed because there was no state office since the formation of the opposition party, this event came as a dream to us."
SPLM-IO launched its office and registration of members in Yambio town of Western Equatoria State at the beginning of the month.