South Sudan says willing to negotiate with Sudan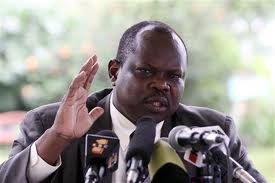 Senior South Sudanese official Pagan Amum has said his government intends to return to negotiations with Sudan to resolve the outstanding issues post secession between the two countries.
Citizenship, oil sharing and border issues remain unresolved.
Addressing large crowds in Juba Amum said South Sudanese forces will withdraw from Hegloig when UN peacekeeprs deploy to the area and Sudan stops using the base to launch attacks on South Sudan.
He said the government is determined to return to negotiation as soon a chance arises and stressed the importance of agreeing on border demarcation.
The chief negotiator said all land that belongs to the South must be returned.