UNSC consider sanctions for Sudan, South Sudan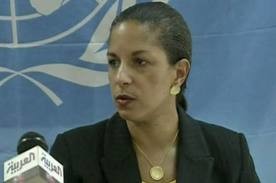 US envoy to the UN Susan Rice has said the UN security council is considering imposing sanctions on Sudan and South Sudan if they do not end the current border clashes which could escalate into all out war.
South Sudan seized the oil field of Heglig in Sudanese territory saying ti was in fact theirs according to the 1956 border, aggravating already tense relations between the two countries.
UN security council spokesman said it calls for a 'complete, immediate and unconditional' end to the fighting, as well as an end to Sudanese air strikes and for south Sudan to withdraw.
Rice told reporters that UNSC members discussed ways to exercise influence over Juba and Khartoum including how to implement those methods.