South Sudan leaders urged to create conducive atmosphere for elections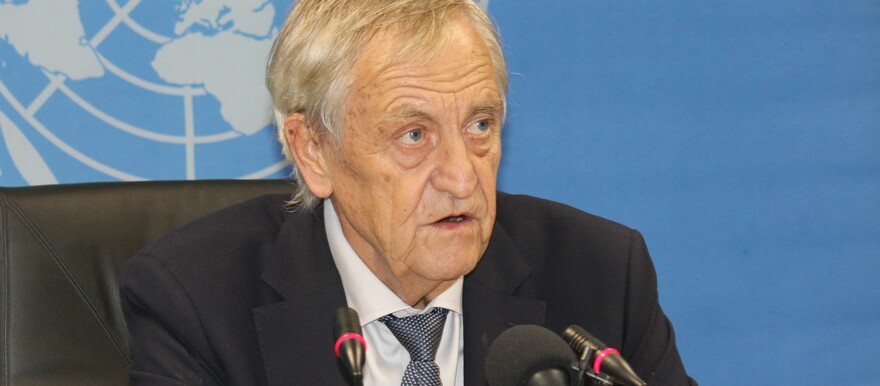 Nicholas Haysom, the Special Representative of the Secretary-General and Head of UNMISS, addressing a press conference in Juba on Wednesday, May 24, 2023. (Radio Tamazuj)
The United Nations Mission in South Sudan (UNMISS) on Wednesday called on the country's political leaders to create a conducive environment for holding credible elections set for December next year.
Addressing a press conference in Juba on Wednesday, Nicholas Haysom, the Special Representative of the Secretary-General and Head of UNMISS, urged the parties to renew their efforts in establishing a legal framework to prepare the ground for polls.
"I think, like many, the question is easy to answer if you are looking at the question of whether the conditions exist now, but a much more difficult question as to whether the country can create the environment in which elections can still be held, and that is an issue I think, we will be looking at much more closely at the end of the year," he said.
According to the senior UN official, time is running out for the country to prepare for the conduct of credible elections in December 2024.
"The constitution-making process and elections legislations and setting necessary institutions and structures as well as creating an environment to support robust political competition required tangible measures," Haysom said.  "The constitution-making process is 10 months behind schedule and elections planning is eight months behind schedule. Several aspects of transitional security arrangement are simply hanging."
The 2018 revitalized peace agreement stipulated that the country hold its first general elections in February 2023 but last year the signatories agreed to extend the transitional period by another two years.
The government has yet to reconstitute the electoral commission and implement key judicial reforms necessary for polls.
Other provisions yet to be implemented include the drafting of a permanent constitution, the repatriation of refugees, the reconstitution of the Independent National Elections Commission, and the conduct of a national population census.