Leaders reminded of critical tasks before elections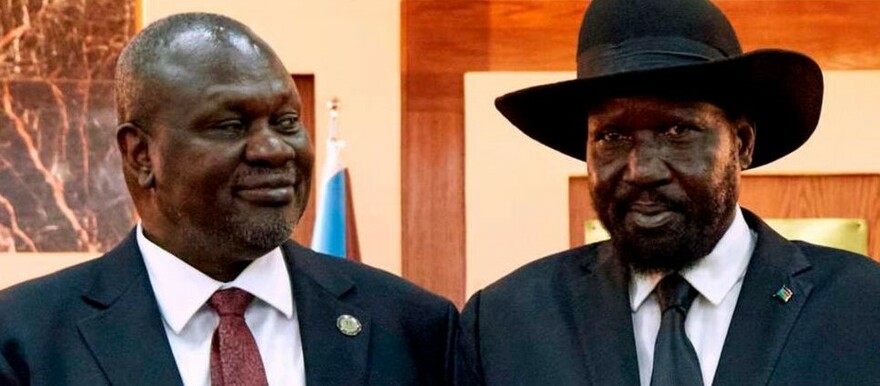 First Vice President Riek Machar with President Salva Kiir at the State House in Juba on February 22, 2020. PHOTO | AFP
A leading South Sudanese civil society organization has reminded the political leaders of key benchmarks before making promises about the conduct of free and fair general elections next year.
While addressing a crowd of citizens in Wau town on Saturday, President Salva Kiir reiterated his commitment to organising free and fair elections in December 2024.
In August last year, President Kiir, First Vice President Riek Machar and other political leaders extended the transitional government's time in office for another two years.
The end of the transitional period was scheduled for 2022, but was pushed back to December 2024 due to the lack of progress on many key provisions of the 2018 peace agreement that ended a bloody five-year civil war.
In a statement extended to Radio Tamazuj on Sunday, Edmund Yakani, the Executive Director of the Community Empowerment for Progress Organization (CEPO), which promotes civil society values, said the processes that can enable the conduct of elections are lagging behind.
"Our observation is that electoral campaigns by the political parties have started in the absence of the required legal framework and reconstitution of the key institutions," Yakani said.
"Constitution is a precondition for the conduct of general elections, and yet the constitutional making process has not started through the drafting of the constitution by the Constitutional Drafting Committee (CDC), which is not yet established," he added.
According to Yakani, another precondition for free and fair elections is that all political parties must be registered by the Political Parties Council, which has not yet been reconstituted.
"Above all, until today, the National Elections Commission is not yet reconstituted. All these steps are essential for preparing the ground for credible elections. From June 2023 onwards, if these steps are not taken, the chance of having credible elections by December 2024 is narrow," he said.
"The preparation for the conduct of general elections by December 2024 per now is not promising since the required institutions, namely the Political Parties Council, National Elections Commission and National Constitution Review Commission, are not yet reconstituted until today, including the ratification of the National Elections Act (Amended), 2023 by the parliament," he added.
The renowned activist urged the political leaders to be serious about the democratic transition in the country and prepare for general elections in December 2024.