Kiir, Machar talks postponed again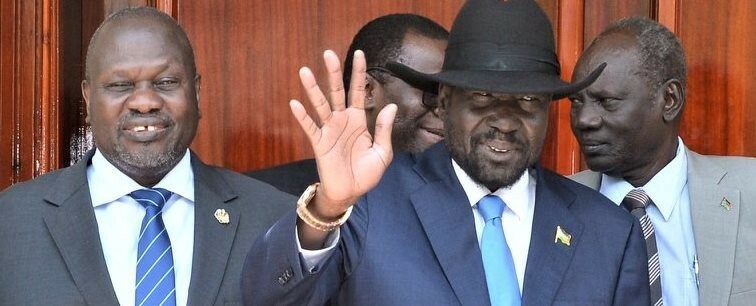 A meeting between President Salva Kiir and First Vice President Riek Machar to discuss the sacking of the defense minister will not take place as planned today, an official said.
The meeting was initially scheduled to occur earlier this week, but was pushed to Thursday.
Last week, Kiir fired the country's defence minister Angelina Teny, who is also Machar's wife, and interior minister Mahmoud Solomon in a presidential order.
Kiir also swapped the defense ministry set for Machar's party to his party and handed Machar the interior ministry, in a move that goes against the terms of the 2018 peace agreement.
First Vice President Riek Machar wants to meet President Kiir to discuss the dismissal of the defense minister Angelina Teny, a member of Machar's SPLM-IO party, and the swapping of the two dockets.
Puok Both Baluang, director of information and acting press secretary for Machar, told Radio Tamazuj Thursday morning that the meeting has been delayed again following a request from the president. 
"The meeting has been adjourned until Friday 10th March based on the request of the President. According to the information we received, the president wants to visit the family of the presidential advisor for peace, David Reath Malual, who passed away this week," Baluang said.
"We hope that the two leaders will meet tomorrow and agree on the implementation of the peace agreement," he added.
Meanwhile, the presidential press secretary, Lily Adhieu Martin Manyiel, said when the date of the expected meeting is confirmed, the presidential press unit will issue a statement.