Kiir, Machar meeting adjourned to Thursday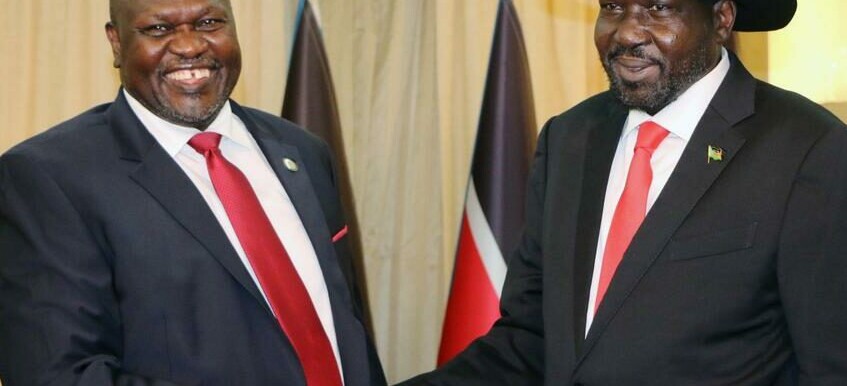 President Salva Kiir and First Vice President Riek Machar shake hands in Juba in October 2019. [Photo: Reuters]
A meeting between President Salva Kiir Mayardit and his First Vice President Riek Machar Teny scheduled for Monday has been postponed to Thursday, an official confirmed. 
The two principals were expected to discuss President Kiir's dismissal of the Minister of Defense and Veteran Affairs Angelina Teny, a member of Machar's SPLM-IO party, and the swapping of the two dockets between the two peace partners.
Puok Both Baluang, SPLM-IO's press secretary, told Radio Tamazuj Monday evening that the meeting was delayed following a request from the president. 
"The meeting has been adjourned until Thursday based on the request of the President," said Baluang.
Meanwhile, the press secretary in the office of the President, Lily Adhieu Martin Manyiel, said the meeting did not take place today as it had not been officially scheduled. 
"There is no meeting that has taken place because there was no any official communication from the office of the President," said Athieng.
"All the necessary information will be communicated to the media in due time. So, you better wait to hear from us officially," she added.
On Friday evening, President Kiir fired Defense and Interior ministers in a move that goes against the terms of a peace agreement signed with opposition party leader and First Vice President Riek Machar. 
Kiir also swapped the defense ministry set for Machar's party to his party and handed Machar the interior ministry. 
However, on Saturday, the SPLM-IO Political Bureau held an extraordinary meeting in Juba, accusing Kiir of violating the terms of the agreement by firing the defense ministers and swapping the two ministries without consultations.