Attack on Anyuak king's palace leaves 3 dead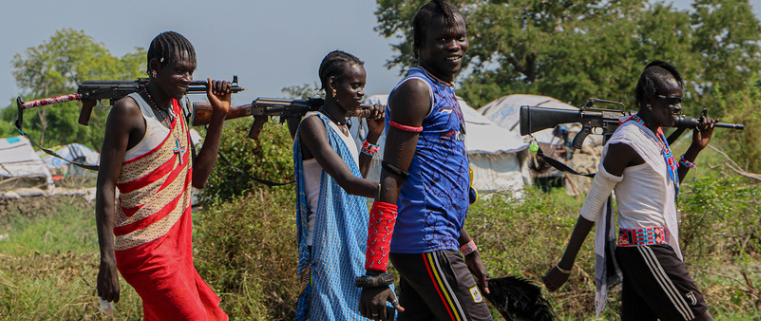 Armed youth walk through Lekuangole town, GPPA. (Photo: TNH)
Three people were killed and three others injured in an attack carried out by armed youth in Greater Pibor Administrative Area's (GPPA) Otalo Town, the headquarters of King Akway Agada Akway of the Anyuak people, on Friday afternoon, local officials said.
Obang Nyigwo Othou, a local administrator in Pochalla County, told Radio Tamazuj over the weekend that the attackers, who he said were Murle youth, were heavily armed.
"On Friday afternoon at 1 pm, armed Murle youth attacked Otalo. They fought with our (Anyuak) youth and killed three and injured three others," Obang said.
"The attackers were pursued and about 1,500 head of cattle which raided have been recovered," he added.
Meanwhile, Jay Adingora Alual, the information secretary for the Anyuak Community in South Sudan, condemned the attack and called for urgent government intervention, saying the attack was politically motivated.
"As the Anyuak Community, we condemn in the strongest terms possible the attack on Otalo in which 3 people were killed and 3 others injured by Murle youth. The attack was coordinated and organized from somewhere because heavy weapons like RPGs, PKM (machine guns), and new ammunitions were used," he said.
"We, therefore, call on the government of the national unity and the international community to intervene," he added.
For his part, John Abulla, the GPAA deputy chief administrator, confirmed the incident and said that it was being investigated.
"On Friday evening I learned of the incident on social media. I immediately summoned the commissioner of the area to monitor the movement of those criminals," he said.