Akobo survey underway despite suspension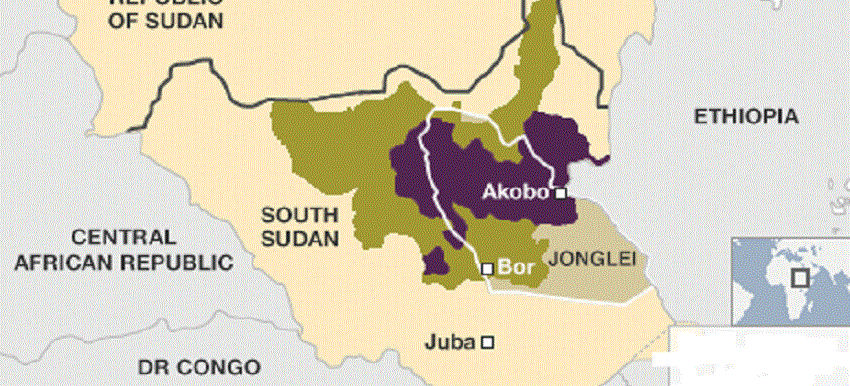 The commissioner of Akobo County in Jonglei State said the survey of the county headquarters, Akobo town, is ongoing despite an earlier order by the state's land and housing ministry suspending the exercise. 
The survey of Akobo town started in November last year after approval by the state housing, land, and public utilities ministry.
However, in a February 21 order, the ministry reversed its decision, saying the exercise was illegal. 
"The town's master plan shall first be evaluated and approved in the Ministry or if necessary the Council of Ministers for possible resolution provided that there is no town planning without concerned government institution as per the stipulation in the Land Act 2009," a letter signed by the ministry's director-general, Eng. Mayian Biel Deng reads in part. "The implementation phase which includes the allotment of land survey shall be the responsibility of the ministry's technicians with technical know-how and local community such as chiefs, elders, women, leaders, and youth who reside in that particular popular area, not just a composition of military generals who come far from the area's vicinity."    
But speaking to Radio Tamazuj, Commissioner John Chuol said the survey is going on despite the suspension following the governor's intervention. 
"The director-general with a team was in Akobo in November last year, then I don't know what happened that convinced him not to let the survey continue when he went back to Bor," Chuol said. "In the following day, I talked to the governor who asked me to continue with the survey and that the ministry will have to write another letter that the survey is not stopped."
The local official pointed out that the survey will continue until May this year reiterating a call on residents to turn out to receive plots. 
"I did not receive another letter from the ministry after they ordered the suspension but we are continuing because of the instruction from the governor. The survey will continue up to May. The survey will not affect any institutional area," he said. 
Efforts by Radio Tamazuj to reach out to the ministry director-general Mayian Biel Deng was futile. 
Isaac Mamer Ruk, the state minister of housing, land, and public utility, declined to comment.