Women conference to elect leaders commences in Lainya County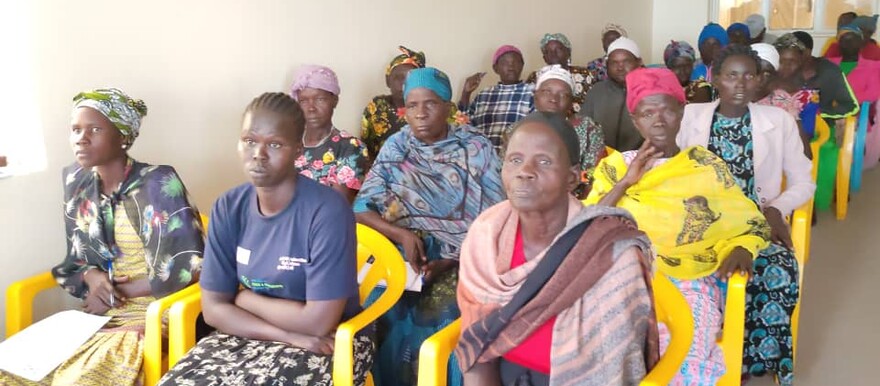 Women attending the conference in Lainya County of Central Equatoria State on 22 March 2023. [Photo: Radio Tamazuj]
A two-day women's conference aimed at electing new leaders and drafting a constitution for the Lainya County Women Association is underway in Lainya County of Central Equatoria State. 
The conference, which kicked off Wednesday, is organized by the United Nations Mission in South Sudan (UNMISS) and is attended by about 40 women from the five payams of the county.
James Mugwo, the UNMISS team leader in Yei River County said the conference will provide the women with a free and fair platform to discuss matters affecting them. 
"The Central Equatoria State Women Union together with UNMISS is to support the women and the constitution of the women association in the county. In this process, we shall have women discussing the issues affecting them and also planning on the way forward, drafting the constitution of the Lainya county women association after that, we will elect their leader for the two days, today and tomorrow," he added.
Mugwo pointed out that from observation, women can play a pivotal role in peacebuilding if allowed to participate in nation-building.
The state minister of gender and social welfare Huda Micheal Laila is in attendance. She urged the women to support the leaders they will elect at the conference.
"My advice to you is that any woman is good but we have to be the ones to choose and the woman that is going to be elected, we are going to support her. We want a women leader who can bring all the women together from all the payams in the county. So, we came here to support and witness the process," she said. 
Meanwhile, Emmanuel Khemis Richard, the commissioner of Lainya County welcomes the initiative and encouraged the women to work together.
"Let us all call for peace because women are very good at bringing peace. A woman has a big role in peacebuilding and you have to work together as the women of Lainya County," he appealed.