Juba: SPLM says unaware of harassment of SPLM-IO members in Tonj North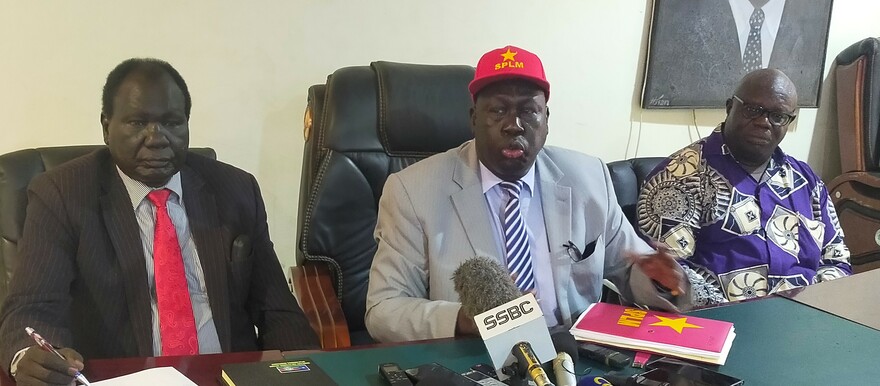 Senior SPLM officials in the capital Juba said that they were not aware of any harassment of and threats to opposition supporters in Tonj North County in Warrap State.
Last month, Tonj North County Commissioner Andrea Ayok Malueth wrote to the payam administrators of Kirik and Madhiath Ajak, directing them to stop a member of the SPLM-IO from distributing T-shirts and campaigning in their areas, saying it is prohibited by law.
"This letter serves to direct you that Hon. Mark Anei Mading, whom I heard is wearing SPLM-IO party T-Shirt, should be arrested as I am informed that he is making campaigns and distributing T-shirts illegally in the Payam and mobilizing people," read the commissioner's letter in part. "That is not allowed by law and without my permission as head of the security in Tonj North County."
Speaking at a press conference in Juba on Tuesday, Bol Makueng, the SPLM party's external relations, claimed that they are not aware of the letter and instead accused the SPLM-IO of orchestrating violence in Warrap State. 
"You are saying Andrea Ayok Malueth was arresting people? It is the first time to hear of it. Usually, if we hear such a thing, we will react because we are responsible and ask the people on the ground if they are doing it. We cannot advocate for democratic practice and then stop other parties," he said. "One of the problems I heard two years ago was that the SPLM-IO people were also intermingling community problems with their problems such that if communities fight, then the SPLM-IO will come and agitate."
"However, we will inquire, and if it (harassment) has taken place, we are going to stop it because we want everybody to be free," Makueng added.
In a rejoinder, Kuol Atem said the incident that happened in Tonj North should be considered an isolated incident by an individual but not an SPLM party position.
"There are individual behaviours, but it is not a policy of the whole party. It is like when the governor of Western Equatoria, who is SPLM-IO prevented the SPLM party chairman in the state from holding a rally; we cannot say it is the whole SPLM-IO that did it," he hypothesized. "So, if the commissioner of Tonj North sent security people to prevent the SPLM-IO from wearing their T-shirts, I do not consider it the whole SPLM; it is only the commissioner of Tonj North."
The opposition SPLM-IO is led by First Vice President Riek Machar, while President Salva Kiir leads the ruling SPLM party.
Kiir, Machar and other political figures signed a peace agreement in 2018 that ended five years of civil war.
The term of the current coalition government was initially set to expire in 2022. In August 2022, the parties to the peace agreement extended the transitional government's time in office for another two years, meaning elections would be held in December 2024.
Last year, the United Kingdom, the United States, Norway and the EU called on the government to expand political and civic space to ensure that the voices of the South Sudanese people, including those who hold opposing views, are consistently heard throughout the implementation of the peace agreement.