SPLM starts registration of members in Lowoi, Torit County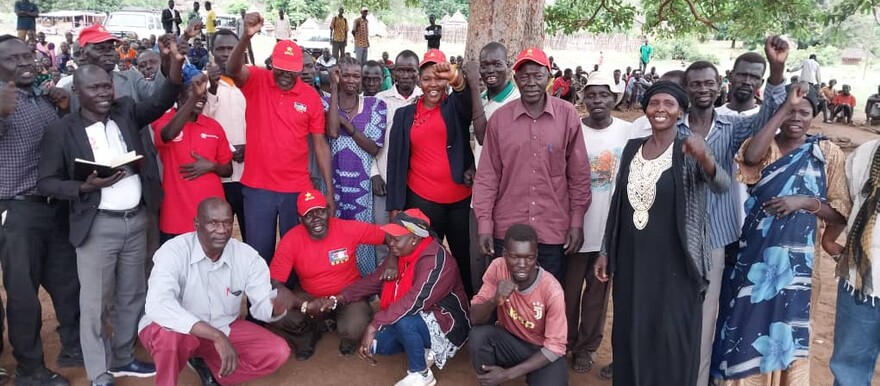 SPLM registration in Lowoi Payam, Torit County, Eastern Equatoria State on 20 March 2023. [Photo: Radio Tamazuj]
The Sudan People's Liberation Movement (SPLM) party on Monday launched an exercise to register its members in Lowoi Payam in Torit County, Eastern Equatoria State.
Hundreds, including youth and women, attended the function where party officials urged the people of Lowoi to rally behind the SPLM.
Addressing the crowd, Torit County SPLM Chairperson Stephen Ruffos said the exercise will lead to the reorganization of the party.
"Today marks the continuation of registration and reorganization of the SPLM office after the crisis in 2013. The registration is to get our SPLM members and to prepare ourselves for the coming elections so we can vote for our candidates," he said. "The formation of the Lowoi Payam office and registration of party members will bring about fundamental change, democracy and transformation."
"The restructuring will allow will also improve the management of SPLM in Lowoi Payam," he added.
Umjuma Philiph Atrun, a member of Other Political Parties (OPP)-National Agenda, which he says is allied to the SPLM part, told the gathering to join parties of their choice and urged husbands to allow their wives to join political parties.
"We will work together with SPLM, our constitution is one with SPLM. No constitution encourages killing, avoids development and construction of roads and health centers," she said. "These are our needs in South Sudan. We are one and our youth this is time should know where they are. Your eyes must be open."
Meanwhile, Asunta Augustino, a woman leader in Lowoi Payam, thanked the SPLM party team for launching activities in the area.
"I am thanking you people who came from Torit to open our eyes. Today we saw something good and heard all your statements," she said. "People should think properly and join SPLM."
On his part, Joseph Kabaka Atiol, the SPLM secretary-general for mobilization in Eastern Equatoria State, said his party birthed the country of South Sudan and that they were in Lowoi to stand in solidarity with the people.
"I would like to thank the people who joined us today because they have made our work easy," he said. "We will not end here and we shall prosper. In Torit County, we have 9 payams of which we have visited 3. We will visit the other 6 before people start farming."