UNISFA celebrates Multi-National Day, decries presence of armed groups in Abyei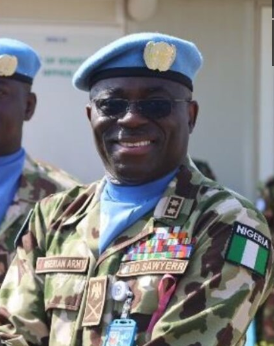 UNISFA Acting Force Commander Major General Benjamin Olufemi Sawyerr. (UN photo)
The United Nations Interim Security Force for Abyei (UNISFA) recently celebrated the transition of the mission from a single country to a multi-national peacekeeping mission tagged UNISFA Multi-National Day.
The event which took place at the mission's headquarters and was marked with a parade and coincided with the induction of the Nigerian Base Defence Company into the mission.
In his speech, the Acting Force Commander, Major General Benjamin Olufemi Sawyerr, said that despite the challenges faced by the mission, they have been able to get the communities to dialogue to reduce unnecessary killings.
He said the mission has deployed troops to carry out the protection of civilians (POC) mandate despite the challenges of manpower and equipment and attacks on peacekeepers and has won the hearts and minds of the people with various types of quick-impact projects and civil-military coordination activities that have impacted positively the lives of the people of Abyei.
"We rebuilt schools, established computer labs, and gave scholarships and educational materials to students. We sank boreholes and provided clean water supplies to the communities," he said.  
Gen. Sawyerr denounced the presence of armed groups in the Abyei Box and promised to continue to engage the host governments and the communities to find a lasting solution. He called on the governments of Sudan and South Sudan and the communities to resume work with UNISFA to revive all mechanisms toward making peace prevail.
The acting UNISFA boss affirmed the mission's commitment to continue to strengthen the rule of law, promote gender equality and ensure that SGBV is eliminated. 
He acknowledged with gratitude the tremendous support from the UN Headquarters through high-level visits, budgetary allocations, and logistics approvals to support mandate implementation.
Gen. Sawyerr also applauded the role played by AFPs, OCHA, and NGOs in promoting peace and dialogue and urged the communities, women, and youth to join hands with UNISFA so that a speedy resolution of the station of Abyei will be attained. He also paid tribute to all those who lost their lives in the cause of peace in Abyei.