43 students to sit for CSE examination in GPAA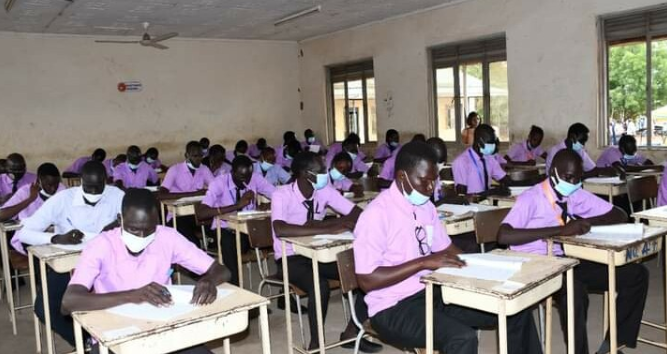 Students sitting exams. (File photo)
Only 43 students, including 3 females, have been registered to sit for this year's Certificate of Secondary Education (CSE) examinations in the Greater Pibor Administrative Area (GPAA).
The candidates are part of 35,459 students including 12,539 females, registered to sit the examination in 398 schools across the country starting Monday.
Nyabok Ngali, the director-general in the GPAA education ministry, told Radio Tamazuj over the weekend that they registered the lowest number of candidates compared to the rest of the country because the already existing challenge of lack of access to quality education is exacerbated by insecurity.
"This year at the only secondary school in GPAA called Rio Jakor, we registered 3 female candidates and 39 males to sit for CSE on Monday. We have already received the examination papers and we are ready to deliver them," he said. "If it were not for insecurity, we could have had 56 candidates. Last year we also had the lowest number of candidates. The reason is that we only have one secondary school and insecurity forces parents to relocate children to places like Juba and Ethiopia. Also, parents find it difficult to allow girl education because of culture."
Meanwhile, Abraham Kelang, the area's information minister, called on aid agencies to come to their aid to improve the quality of education in GPAA.   
"We only registered 43 candidates and this number is very low indeed. The reason is that there is insecurity and there are no schools. For girls, the case is very different. Our culture is very primitive and girls are booked (for marriage) at birth meaning at the age of 17, the suitors take them as wives," he explained. "So, eradicating this requires a huge campaign to improve the enrollment of girls into school."
For her part, Awut Deng Acuil, the national education minister, while announcing the date for the start of the CSE examination late last month, decried the state of education in GPAA, saying it had the lowest enrollment in the country.
"We want to see that children are registered in schools and they are left in the schools. It is one thing to register and another to retain them in schools. So, this is an area which has many factors that are pulling them back," she said. "Firstly, access to the area (GPAA) is a problem. Secondly, attitude is another problem. We will have to deal with both so that the perception is changed."