South Sudan signs two IGAD protocols on transhumance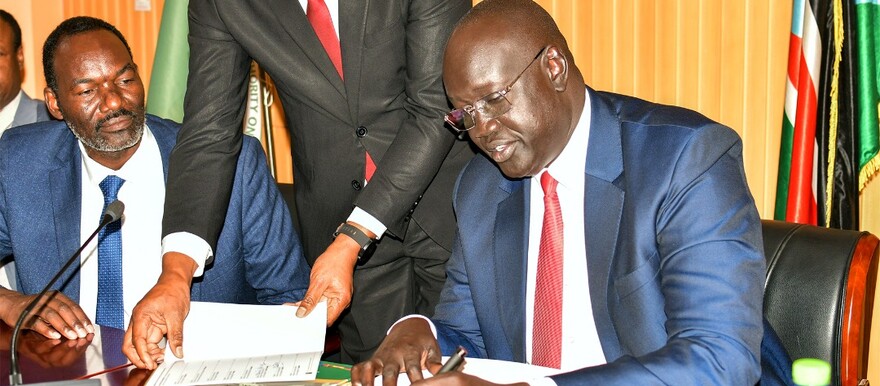 South Sudan's government on Friday signed two protocols on transhumance and movement of people to regulate the movement of cattle and people in the region.
The Intergovernmental Authority on Development (IGAD) prepared the protocols with all member countries expected to sign it in order to allow movements across the borders and domestically.
Speaking to journalists during the signing ceremony in Juba on Friday, South Sudan's Minister of Foreign Affairs Mayik Ayii said the free movement of the herders will boost the economy of the country.
"We are happy to sign these protocols that were approved by IGAD member states because this is for the benefit of IGAD countries. So, free movement of pastoralists will help our economy and will help our countries to grow," Mayiik said.
He added, "The pastoralists are not prisoners, they are not coming to stay forever, but they are coming for seasonal grazing and they will go back to their countries of origin. So, this mechanism will guide it and will regulate it and will put in other precautions like health."
For his part, the Director of IGAD Centre for Pastoral Areas and Livestock Development, Dr. Mohamed Elduma stated that the protocols will ease the movement of people and transhumance in the IGAD region.
"Those protocols are very important for us for facilitation of movement in IGAD region. We started in Khartoum two weeks ago when the foreign Affairs minister for Khartoum signed on them, we are here in South Sudan, then we will move to Uganda and then other member states," he noted.
Onyoti Adigo, South Sudan's Minister of Livestock and Fisheries, stressed that the movement of animals will be regulated by issuing health certificates to every animal in the region.
"The movement will be guided by the health certificate which will be followed because we don't want cattle from different countries coming to affect other countries if they have got diseases," he said.
On Tuesday, officials from South Sudan's Ministries of Animal Resources and Fisheries, Foreign Affairs, Interior and the Intergovernmental Authority on Development (IGAD) met in Torit in Eastern Equatoria State to discuss a protocol on transhumance in the Horn of Africa Region.
The two protocols were started in Khartoum in 2017 through consultative meetings.
A virtual meeting in June 2021 adopted the two protocols to facilitate the movement of transhumance across IGAD member states.
The 32-article IGAD Protocol on Transhumance provides for; among other things, that "all transhumant livestock and herders shall be allowed free and safe passage across points of entry into and departure from each country on condition that they have the IGAD Transhumance Certificate."