Opposition coalition sharply divided over defense minister's firing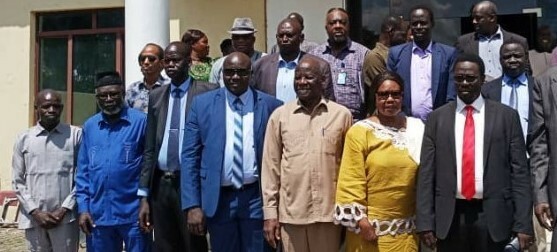 A leading member of the South Sudan Opposition Alliance (SSOA) has told critics off regarding President Salva Kiir's decision to remove the defense minister.
Kiir fired defense minister Angelina Teny on 3 March – in a shocking move that sparked questions on the motive of the action.
Angelina is a leading member of the opposition SPLM-IO led by First Vice President Riek Machar.
 The president also swapped the defense ministry set for Machar's party to his party and handed Machar the interior ministry, in a move that goes against the terms of the revitalized peace agreement.
The peace agreement gives parties the power to remove their representatives from the government and nominate replacements by notifying the president.
Stephen Lual, a member of the parliamentary committee for foreign affairs representing SSOA, said in a statement to Radio Tamazuj that the decision to remove the defense minister was in the prerogative of the president under the constitution.
"The step taken by the president was procedural and administrative, and it does not violate the spirit of the peace agreement. Therefore we do not object to the decision," he said.
Lual is a  member of the South Sudan Patriotic Movement/Army (SSPM/A) led by Vice President for Service Cluster Hussein Abdelbagi Akol.
However, Mahmoud Akot, who is also a senior member of the South Sudan Opposition Alliance (SSOA), said Stephen Lual does not have the authorization to speak on behalf of all political organizations under the opposition alliance.
"What he declared indicates that the man is ignorant of what he says and is not aware of the terms of the agreement because the agreement does not give the president the absolute powers to act without consulting the parties to the agreement," he said.
 "Though Kiir is the president, he represents one party to the agreement, and one party does not have the right to change or take the share of another party without consultations or obtaining approval. Any action without consultations is a violation of the peace agreement. Therefore, Stephen's statement represents only his party," he added.
Akot is a member of the National Democratic Movement (NDM) led by Dr. Lam Akol.