GPAA authorities embark on rallies to disseminate peace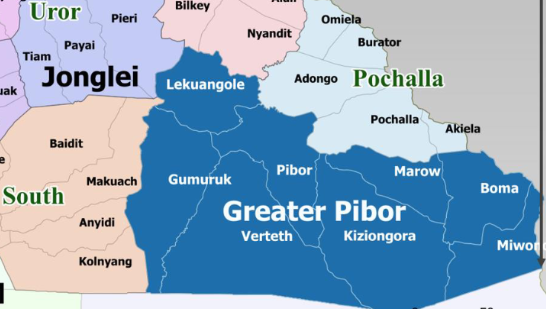 Local government officials are conducting rallies in parts of the Greater Pibor Administrative Area (GPAA) to disseminate peace messages among local youths following renewed inter-communal violence there.
The ongoing initiative in GPAA's Gumuruk and Likuangole counties, which were scenes of deadly clashes between local Murle youth and Nuer youth from Jonglei State, started on March 8.
The GPAA information minister, Abraham Kelang, told Radio Tamazuj Tuesday that the peace campaigns will continue until all areas in Gumuruk and Likuangole are covered because they do not want their youth to revenge.
"As a government, our objective is to use the opportunity offered by this dry season to reach out to our youth in hard-to-reach areas in the counties which border Jonglei state," Kelang said. "We move to cattle camps with traditional chiefs asking the youth not to go and revenge after recent attacks by the youth from Jonglei State and we also asked them to instead engage in agriculture and give the government a chance to bring peace."         
"Areas like Nanaam, Bich-Bich, Lothila and Machibol oF Gumuruk County, and Likuangole, Kongor, and Nyargeny in Likuangle County have already been covered and the campaigns are still ongoing in the remaining areas," he added.
On his part, Jacob Logocho, the head of the area's peace and reconciliation commission, said he is hopeful that the ongoing initiative will yield peace in GPAA and the beyond.
"As the peace commission and the government of GPAA, We are carrying out these campaigns in hotspot areas with the chiefs for the dissemination of the peace agreement and peace within GPAA and with our neighbors in Jonglei State," he said. "The idea here is to stop these massive attacks targeting women and children."
Meanwhile, Canan Lelicho, the GPAA Youth Union chairperson, lauded the government's move and reiterated their readiness for peace.
"We welcome this good initiative by our government. When the Lou Nuer and other youth from Jonglei State attacked our area, our youth were very annoyed and wanted to revenge but they were convinced by the government to remain calm," he explained. "So, our youth are still obeying the government and waiting for the planned peace conference with Jonglei State. We also call on Jonglei State to emulate the move by our government."