Langkien residents face hunger as they miss out on food aid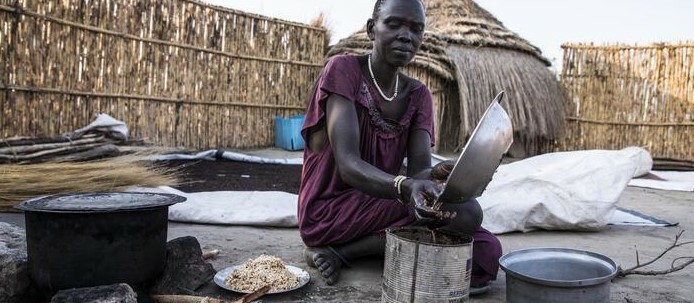 Nyabany Mun Roah prepares a local dish from sorghum for her family outside their home in Karam, Uror County of Jonglei State.© WFP/Gabriela Vivacqua
The local authorities in Nyirol County in Jonglei State have said that the residents of Langkien town are grappling with hunger, as they have not received food aid for months.
James Bol Makuei, the county commissioner, told Radio Tamazuj Thursday that the town's inhabitants were fleeing due to starvation and last received food aid last October.
"Since last year, there has been no food aid, but recently they (humanitarian agencies) tried to drop some food in Pulturuk, Nyabor, and Pading but within Langkien, we have over 31,000 households that have not received food," he said. "There is a lot of migration in our areas due to hunger. Some people moved to Twic East County and even to places in Upper Nile State like Baliet, Ulang, and even Malakal. So, the hunger situation is beyond the description."
A resident of Langkien town, Biel Jiek, appealed for food aid saying they are helpless and warned that residents will continue fleeing in their hundreds if no one intervenes.
On his part, Gatkhor Duol, the county Relief and Rehabilitation Commission (RRC) coordinator, also decried the situation in Langkien but said that aid agencies were being engaged.
"The current situation in the entire county is a little bit fine because the areas of Pading, Nyabor, and Pulturuk received some food aid a few weeks ago. However, Thol Payam, where Langkien lies, received no food aid since last year," he said. "The situation is not good. The only food items were brought by traders but they are being sold at high prices which the local community cannot afford."
"In Langkien, 33,999 households will benefit if relief food is brought as we were promised by our partners," he added.