EU, UNOPS handover feeder roads project in Kuajok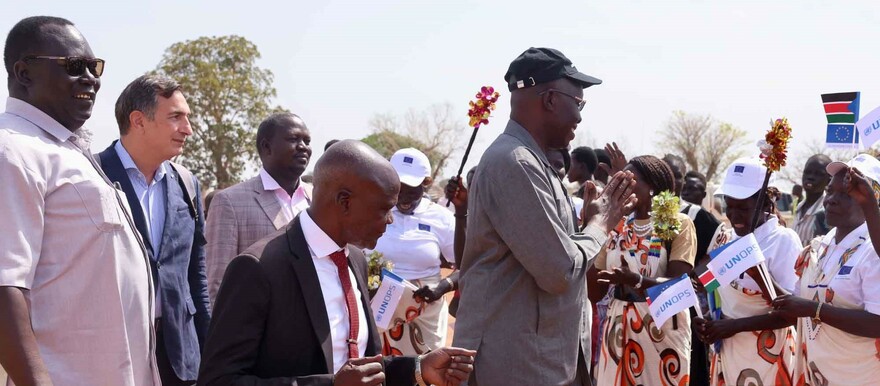 The European Union's Head of Cooperation in South Sudan, Gabriel Octavian Leonte, and UNOPS officials handed over a completed feeder roads project to the government in Kuajok town, Warrap State, on Thursday.
Dignitaries from the South Sudan national and state government attended the final project handover ceremony.
With funding from the European Union (EU) totalling almost 44 million euros, the United Nations Office for Project Services (UNOPS) has constructed over 170 kilometres and maintained 306 kilometres of feeder roads in Warrap, Lakes, Western and Northern Bahr el Ghazal states. Other infrastructures built in the target states include four markets and five Water, Hygiene and Sanitation (WASH) systems. 
Speaking about the project in Kuajok, the UNOPS Multi-Country Office Director and Representative to the African Union (AU), Worknesh Mekonnen Gonet, stated that "UNOPS is committed to working closely with its partners in South Sudan to provide durable solutions to development challenges.
Constructed between 2016 and 2020, the roads link farmers to markets and have enhanced trade and food security. These roads have significantly reduced the travel time between farms, homes, markets, schools, health centres and other social amenities. Local traders use the completed roads to deliver farm inputs closer to the farmers.
"This project is truly one of the EU flagships in South Sudan. In partnership with UNOPS, we have built much necessary 170 kilometres of feeder roads and associated support infrastructure in rural areas. These roads are a tangible and valuable asset to the communities benefiting from them, who have benefited of enhanced security and access to services and markets," Mr. Leonte said.
"Moreover, the roads also facilitate the access of humanitarian and development partners, government, and private sector actors to previously hard-to-reach areas while also providing a lifeline to communities affected by floods and other difficulties. We are immensely proud of the impact that these roads are having in the livelihoods and well-being of the beneficiary communities, and we remain committed to supporting vulnerable South Sudanese communities in their path towards development," he added.
South Sudan is one of the most food-insecure countries in the world and it is estimated that half of the population lives below the poverty line. The country suffers from a critical lack of infrastructure which prevents farmers from getting their produce to the markets. 
Despite these challenges, there is enormous potential to increase food production and enhance the country's agricultural output, with approximately 75 percent of South Sudan's land area considered suitable for farming.