Kiir's security arrest and release South Sudanese writer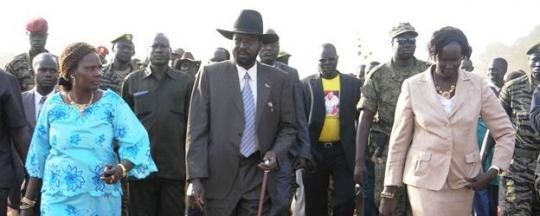 South Sudan's National Security Service have arrested and tortured a journalist over an article that allegedly criticized President Salva Kiir for failing the country.
Opinion writer Malek Bol of Arabic daily Al-Maugif (The Stance) was arrested after he wrote an opinion article titled "Taste of the truth is bitter." The article reads in part, "...Kiir and his family have let people of South Sudan live in acute poverty and hunger..."
Editor of the newspaper Mathiang Cirilo wrote on his Facebook profile on Monday, "We found our colleague Malek Bol after he contacted me this morning."
"He is okay, but he has been tortured and dumped near a graveyard in Gumbo, we are now heading to Juba Teaching Hospital," he added.
Family members and colleagues were worried about the safety of Bol until he was found this morning. "He went missing on Friday and his whereabouts was not known," said one of his colleagues.
Separately, a relative called Bol Deng told Eye Radio in Juba that he believed Malek was tortured because he published an article critical of the government on social media.
"In fact, he was tortured and punitively head-shaved. He was also tortured with a buttstock," Deng confirmed.
South Sudan has intensified its crackdown on journalists since about mid-2013 before the current civil war started and continuing to-date. The National Security Service play a central role in the crackdown through their media department, which monitors the media.
The National Security Service is a security organ overseen by President Salva Kiir directly and managed by a minister within the Office of the President.
File photo: President Salva Kiir with his wife Mary Ayen (left) and Governor Nyandeng Malek (right), 2010 (GOSS Presidential Press Unit/Thomas Kenneth Elisapana)