SPLA deputy chief of staff reveals failed plot to kill Taban Deng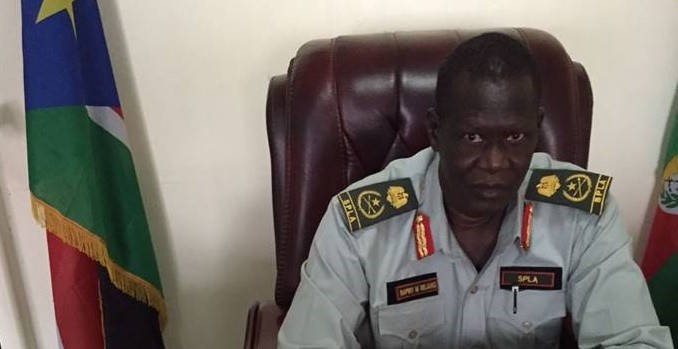 A top South Sudanese general who unexpectedly announced his resignation today has revealed that government officials earlier this year discussed plans to attack the SPLM-IO Advance Team in Juba headed by Taban Deng, who has since become vice president.
Deputy Chief of General Staff for Moral Orientation Lt. Gen. Bapiny Monytuil told Radio Tamazuj today that the alleged plot originated with Presidential Security Advisor Tut Keu Galuak and his own brother Unity State Governor Joseph Monytuil.
The plot if successful would have halted plans for First Vice President Designate Riek Machar to return to Juba in accordance with the 2015 peace deal and would have eliminated a long-time rival of the Monytuil brothers from the picture. Under the terms of the peace deal Joseph Monytuil would have lost his position as governor.
General Bapiny explained, "There was a plot, there was a report compiled by Joseph Monytuil and Tut Keu Gatluak about the SPLM-IO Advance Team led by Taban, the plot was to kill Taban first."
The general says that he disagreed with the plotters over killing Taban, in spite of his long-running animosity with the former governor.
"I rejected the plot, I told them that Taban hails from our tribe, he is a son of Bentiu, because if he returns for the sake of peace, we cannot allow him to come in so that we kill him during peace."
Asked who was responsible for the plot Bapiny said, "It is Dr. Joseph and Tut Galuak, and Paul Malong and at the head of it was Salva Kiir." He added, "The report was written on 29 February on this matter."
These revelations suggests that top security and military officials were already studying possibilities for how to attack the SPLM-IO in Juba prior to the violence that rocked Juba for four days this July and resulted in the expulsion of many SPLM-IO troops and officials from the city and from government.
The general's remarks also point to a deep rift between himself and his brother the governor, as well as major tensions within the SPLA involving the Bul Nuer troops and officers loyal to him, who were divided over how to respond to the peace deal.
General Bapiny's brother Joseph Monytuil became governor of Unity State in mid-2013 replacing Taban Deng. The appointment was a consolation prize for a two years war that Bapiny fought against the government as head of a militia of Bul Nuer fighters under the umbrella of the South Sudan Liberation Movement/Army (SSLM/A) led by Peter Gadet.
The peace deal sealed in 2013 prior to the outbreak of the current civil war made Bapiny's Bul Nuer fighters important allies of President Salva Kiir's forces throughout the ongoing civil war. They played a key role in fighting in early 2014 and during the dry season offensive of early 2015.
Now, however, General Bapiny claims that the SPLA Chief of Staff Paul Malong and his brother the governor have turned against him and have arrested dozens of his officers.
According to the letter, "On the 29th of February 2016, I obtained a report that was written to the President by the Presidential Advisor Tut and Governor Nguen [Monytuil] with the recommendation that Taban Deng Gai (who had just come to Juba with the advanced team of the SPLM in Opposition) should be assassinated and Maj Gen Buay, Maj Gen Manyuat and myself to be arrested."
In mid-March 2016 the general sought to leave the country. He says obtained permission from the president and SPLA chief to go to Germany for medical treatment and he left for Uganda on 17 March to process a visa for Germany. On the same day he claims that the SPLA Chief of Staff ordered Maj Gen Mathew Puljang to go to Mayom to arrest 46 officers whom they thought were loyal to Bapiny and whom he feared would rebel. These officers were arrested and taken to Sector 1 Headquarters in Wau.
In a sign of the rift between Bapiny and his brother the latter says in his resignation letter that the arrests were made "according to a report by Dr Joseph Nguen the Governor." He also links the arrests to differences over whether to carry on fighting in Unity State or not, with one faction reluctant to do so and the other instigated by Malong and the governor to continue waging war.
"On the 18th of March 2016, they arrested Maj Gen Stephen Buay Rolnyang and Maj Gen Joseph Manyuat Manydhol, because they did not heed to the orders of the Governor of Unity State and the COGS who wanted them to violate the ceasefire and the whole August Peace Agreement without a written order so that when things get exposed the blame should go to the officers concerned."
Speaking to Radio Tamazuj today, the general added also that General Paul Malong sent troops to his house and disarmed his guards in March 2016. It seems that there have been significant tensions since that time but these have gone unreported.
In the meantime, the deputy chief of staff has clearly not welcomed the return of Taban Deng to government even though he disagreed with the proposal to kill him. He suggested in remarks to Radio Tamazuj that he did not think it likely that the two sides could remain both in government together.
"I said they are men and we are men, let them go to their positions and we also return to our positions so that we fight as we used to fight as usual."
He expects that the East African and internationally brokered peace deal will not bring peace to South Sudan. "The priority now is peace, but we do not see any peace; the whites will not bring peace, but if the people of South Sudan unite their ranks against the government in Juba, I am sure this problem will be solved, the UN will not solve it and the Africans will not solve it, the people should unite themselves against this regime that kills people," he said.
For now, however, Bapiny has not announced his future plans.
SPLA's spokesman Lul Ruai when contacted by Radio Tamazuj today said that he was not aware of the resignation of Lt-Gen. Bapiny.