Jikany peace conference kicks off in Bentiu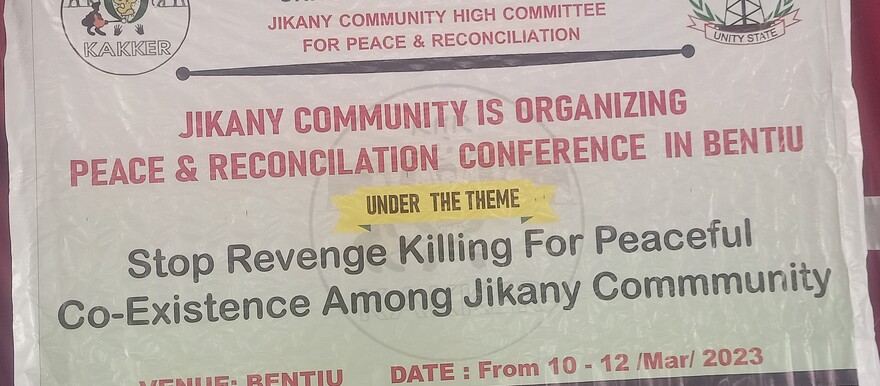 A three-day peace and reconciliation conference aimed at uniting members of the Jikany community commenced on Tuesday in Bentiu town in Unity State.
 Speaking to Radio Tamazuj on Tuesday, Kawany Chany, the commissioner of Guit County urged the Jikany community to end revenge killings.
"As the county commissioner, I am not happy with what you are doing because ending these aimless revenge killings targeting very important people in the community is very important for the Jikany community," Chany said.
The three-day conference that will end on Thursday is expected to come up with resolutions that will be signed by community members.
Commissioner Chany further hopes that the resolutions of the conference will be adopted and implemented.
"Enough is enough and you should not look for another mess, he charged. "After this conference, let the people move freely without thinking of revenge killing and road ambushes."
On his part, the Unity State peacebuilding minister, Madut Ruei, appealed to the Jikany community to live peacefully and educate their children for the betterment of the community.
"I have requested you to encourage these children to go to school rather than teaching them how to revenge because the practice is now ending," he counseled. "After that, you will find a big gap in the education sector so it is better to educate children than making training them to revenge for what they do not know."
Minister Ruei explained that the purpose of the peace and reconciliation conference is to end cyclic revenge killings and retaliation within the Jikany community.
The peace conference is being attended by over 300 participants including lawmakers from the national and state assemblies, state government ministers, county commissioners, chiefs, and youth and women representatives. 
The Jikany community intra-violence started in 2005 and peaked last year when a senior army officer and an NGO staffer were killed in targeted revenge killings.