Nyirol County -
15 Mar 2023
Measles vaccination campaign underway in Nyirol County as cases spike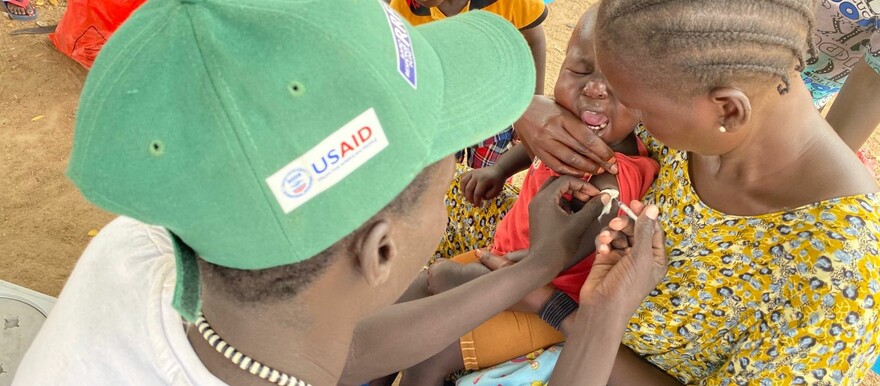 A child is vaccinated against measles at a vaccination center in Bor, Jonglei State on March 11, 2023. Credit (Citizen P Thon Aleu )
A measles vaccination drive targeting more than 100,000 children aged between 6 months to 9 years is ongoing in parts of Nyirol County in Jonglei State amidst a spike in the cases of the viral disease since last October.
Tiwtiw Kun, the county health director, told Radio Tamazuj Wednesday that the campaign started weeks ago after the measles cases jumped to 62 cases and 14 deaths.
"As of yesterday (Tuesday), we received 12 cases from Nyabor Payam bringing the total since the outbreak started to 62 including 14 deaths from Nyabor," Kun said. "Now we are carrying out a Payam by Payam vaccination campaign. We have covered Pulturuk and Thol Payam. Vaccination for the last 3 days is ongoing in Nyabor to be followed by Pading, Cwil, and Waat Payam."
"In the entire county, we are targeting 100, 839 children aged between 6 months to 9 years, with about 9,000 vaccinated in Thol Payam alone," he added.
Meanwhile, James Bol Makuey, the Nyirol County commissioner, said the 12 new cases have been admitted at the MSF Holland health facility in the county.
"In total, the new cases are about 50 based on the reports to MSF but 12 are admitted at the MSF hospital," The far-flung payams bordering Lamkien also report cases but there are no health organizations there. The latest outbreak is about one month old and MedAir intervened but it is insufficient."
On his part, the county information director, Biel Jiek, said the measles cases are alarming and called on relevant health agencies to come to their aid to contain the spread.
Measles is a highly contagious viral disease, marked by fever, cough, and red spots on the skin, and is spread by contact with fluids from the mouth and nose of the infected patients.
It remains a killer disease among young children globally despite the availability of a safe and effective vaccine according to the World Health Organization (WHO).