Government reiterates commitment to Rome peace talks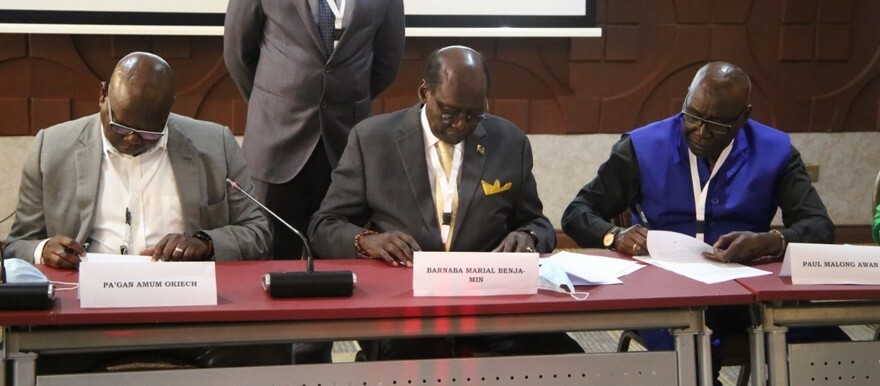 Pa'gan Amum, leader of the Real Sudan People's Liberation Movement (R-SPLM) (Left), Dr. Barnaba Marial Benjamin, head of the government delegation (Middle), General Paul Malong Awan leader of the South Sudan United Front/Army (SSUF/A) (Right) during the signing of the DoP in Naivasha, Kenya March 11, 2021. [Photo: RadioTamazuj]
The Government of South Sudan on Tuesday restated its commitment to the Rome peace talks mediated by the Community Sant'Egidio.
Speaking shortly after the reopening of peace talks between the government and hold-out groups in Rome, Italy, on Tuesday, Presidential Affairs Minister Dr. Barnaba Marial Benjamin said the government is fully committed to peaceful dialogue to restore lasting peace in the country.
"In my opening remarks, I expressed the commitment of the government to see that peace comes to the people of South Sudan through our dialogue with non-signatories," said Dr. Marial. "The commitment of the president, the government, and the people of South Sudan cannot be overemphasized and we are ready for peace to accommodate our brothers and sisters in the opposition."
 "The talks opened amicably although there were some few areas which were not agreeable," he added.
The talks resumed on Tuesday after the government suspended its participation in November last year after accusing the holdout groups of preparing for war and lack of commitment to the talks.
The Rome Peace Initiative began with the signing of the Cessation of Hostilities Agreement between the government and opposition groups in January 2020, and subsequent talks about the root causes of political violence in the country.
The Community Sant'Egidio has maintained that its mediation effort is complementary to the efforts of IGAD in trying to bring peace to South Sudan.
The stance of the holdout groups, now operating under a new umbrella called Non-Signatories South Sudanese Opposition Group (NSSSOG), is that the 2018 revitalized peace agreement did not address the root causes of the conflict in the country.