FACT CHECK: Gen. David Yau Yau's whereabouts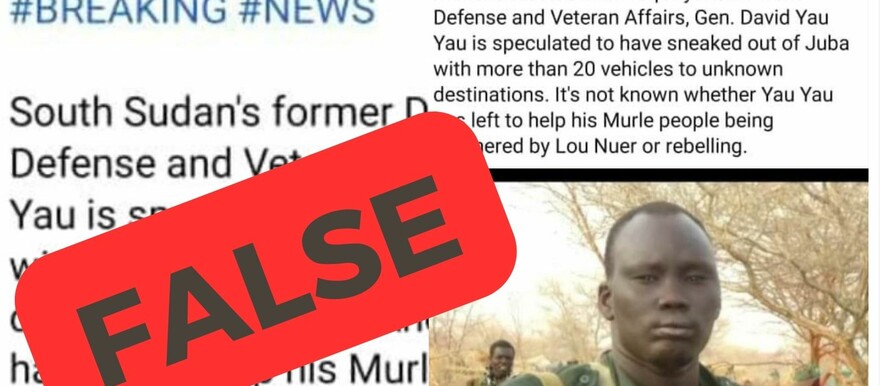 Image: Screenshot of a false Facebook post extracted from online
A post has been circulating on Facebook with claims that the former deputy minister of defense, Gen. David Yau Yau, has sneaked out of Juba with a convoy of more than 20 vehicles. This post is false. Gen. David Yau Yau is in Juba.  
The post also contained claims that the former rebel commander in the Pibor area might have left Juba to help his Murle community, who are engaged in fights with neighbouring communities in Jonglei State.
The false post reads.
"#BREAKING #NEWS South Sudan's former Deputy Minister for Defense and Veteran Affairs, Gen. David Yau Yau, is speculated to have sneaked out of Juba with more than 20 vehicles to unknown destinations. It is not known whether Yau Yau has left to help his Murle people being butchered by Lou Nuer or rebelling," the post claimed.
Last week, Gen. David Yau Yau was seen in Juba attending the launch of an Egyptian company, BTC Global, a gold refinery in South Sudan.
The event was attended by several South Sudanese officials, including the Vice President in charge of infrastructure, Gen. Taban Deng Gai.
While Radio Tamazuj has ascertained that this is a fake post circulated by individuals who want to cause anxiety among South Sudanese, even so, more than 100 people commented, and 39 shared the post.
The post was also circulated widely in different South Sudanese WhatsApp groups and has since appeared in various online groups.
Such a misleading post can cause fear and panic among citizens and could instigate violence in the Greater Jonglei region.
Radio Tamazuj seeks to debunk misleading information in South Sudan. If you have a claim that you would wish to be verified, please get in touch with us via contact@radiotamazuj.org.