Egypt donates generator to South Sudan parliament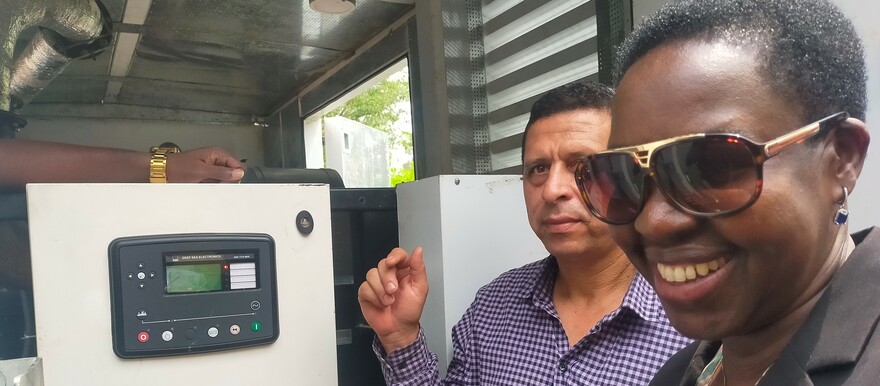 Egypt, through its embassy in the South Sudanese capital, Juba, has handed over a 1 KVA electricity generator to the national legislative assembly.
South Sudan has one of the lowest electricity access with over 90 percent of its 12 million population lacking access to electricity. About 70 per cent of businesses rely on diesel-powered generators.
Speaking during the handover ceremony in Juba on Thursday, the Egyptian Ambassador to South Sudan, Moatez Mostafa Abdelkader, said it is their duty to support South Sudan despite the economic crisis facing his country.
 "This is our duty in Egypt to support our brothers and sisters here in South Sudan in any field and any aspect. We cannot hesitate one minute to support and to help at any time despite the economic crisis all over the world, which has affected Egypt, South Sudan and all countries," he said.
"We cannot hesitate one minute to support and help South Sudan at any time, and this is a historical relation, deep relation even before independence, we have great and deep relations with South Sudan and also the help from Egypt will not be only in electricity," he added.
For her part, Jemma Nunu Kumba, Speaker of the Transitional National Legislative Assembly, said the donation of the electricity generator came at a request from the parliament as they had been facing power outages.
 "We had requested our partners at the embassy to make this donation. I am very happy that they responded positively and brought the generator, which has a capacity of 1 Mega Watt. This will ensure that we have sustainable power in addition to city power. As you have seen, it is a very modern facility connected with city power. When the city power goes off automatically, the generator switches on, and when the power goes off, it automatically switches to the generator," she said.
 "This now an assurance that this assembly will not have any shortage of power and we will not have an excuse to do our work because when I came here a year and a half ago, we had a problem of power breakdown and every time we needed a solution and the solution is here today," she added.
Nunu pointed out that the South Sudanese government plans to import electricity from neighbouring Uganda as a program on building the Fulla Power Plant is being developed.
 "This project, I think when I left the ministry of electricity, was still an option that the government was looking at. Also,  before working on our own, we must have another alternative. There is a power pool of East Africa where every member of East Africa member state can buy electricity," Nunu said.
"We are working on importing power from Uganda from the new power plant at Karuma, and the World Bank was ready to finance the feasibility study to connect to here as we plan to develop our own", Nunu added.  
She revealed that developing the Fulla Power Plant will cost 1.5 Billion US dollars and that the government has not backed off from the project. Instead, she blamed the delays in the project implementation on the country's five years conflict.
 "I believe South Sudan will have its own hydropower plant so that it becomes cheaper for the citizens because right now, the power we are using is also generated by these generators, which are very expensive; that is why the tariffs for the current city power are very high for some people to afford," she concluded.