NOTHERN BAHR EL GHAZAL -
29 Mar 2023
Dinka Malual & Misseriya peace conference underway in Aweil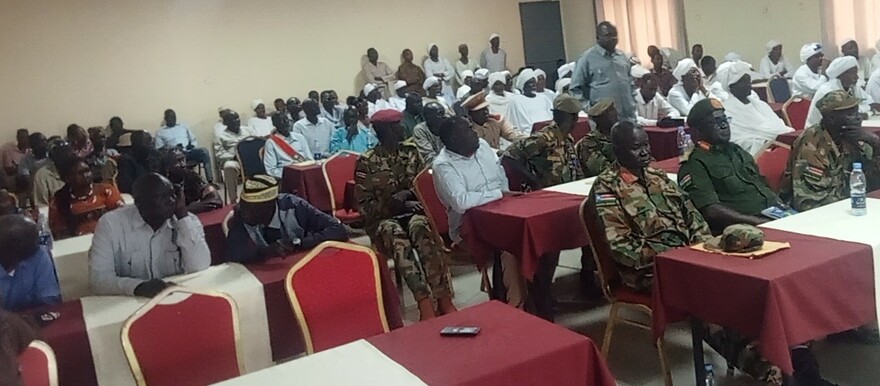 Representatives of Dinka Malual and Misseriya tribes attending a peace conference at the Aweil Grand Hotel in Aweil town on 28 March 2023 (Radio Tamazuj)
An annual peace conference involving the Dinka Malual and Misseriya tribes is underway in Aweil town of South Sudan's Northern Bahr el Ghazal state.
The meeting is expected to discuss cross-border issues, including shared cross-border water and grazing access of Misseryia pastoralists from Sudan's West Kordofan State and coordinating a response to inter-tribal crime.
The conference will last for four days.
Addressing more than 80 delegates on Tuesday, the State's Acting Peacebuilding Minister, William Anyuon Kuol, urged both sides to promote peace and harmony in the area.
 "The Governor of Northern Bahr el Ghazal State, Tong Akeen Ngor, has assigned me to open this conference on behalf of the state government, and I see this peace conference is very important for all of us, including those who are not present from the Dinka Malual and the Misseriya communities," Anyuon said.
Meanwhile, the Dinka Malual Paramount Chief Yel Aguer Geng recalled their historical ties with the Misseriya and said: "We have stayed together for a long time and achieved many things with our brothers Misseriya and they supported us a lot when we recovered kidnapped southerners through a committee during the Sudanese civil war before the independence of South Sudan."
"We don't know how the problems started between the two communities. I am asking our counterparts to tell us new things about the causes of killings," he added.
For his part, the Misseriya community leader, Bakar Abdeljelil Bakar, called on both sides to discuss unresolved matters responsibly and peacefully. "The conference is interesting, and my only hope is for the Misseriya and Dinka Malual to discuss their agendas peacefully so we can come up with good recommendations," he said.
The peace conference is funded by the United Nations Mission in South Sudan (UNMISS) and the United Nations Development Programme (UNDP).