Kajo Keji County -
8 Feb 2023
'Wizards who killed people in Kajo Keji are anti-government'-VP Wani Igga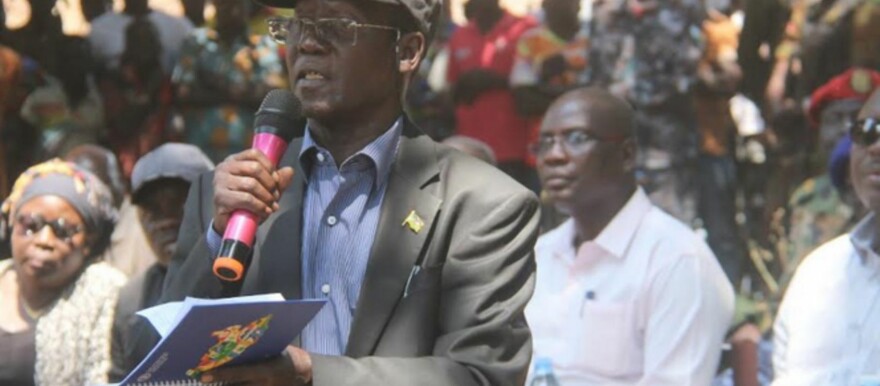 Vice President Wani Igga addressed Kajo Keji residents on Tuesday. (Photo: Radio Tamazuj)
Vice President James Wani Igga has described the pastoralists who killed 21 people in Kajo Keji's Lire Payam Last week as wizards who want to fail President Salva Kiir and his government.
Wani made the statement while addressing a crowd in Kajo Keji where he arrived on Tuesday to buttress Central Equatoria State Governor Emmanuel Adil's efforts in dealing with the fallout between the local population and pastoralists from Bor County in Jonglei State.
Last Thursday, pastoralists from Bor County in Jonglei State who are grazing their cattle in Kajo Keji County gunned down 21 people in a revenge attack after an attack on the latter's cattle camp left 6 dead and another 6 people injured.
"The first reason which made us go to the bush to fight was this land. God did not forget anyone and gave them all land. He gave the Americans, Germans, and Tanzanians their lands and here in South Sudan, he gave the Azande, Nuer, Dinka, Kuku, and everybody their land," Wani said. "The country was given to us all but when we got independence, some people would come to Wani's house and say Wani get out of this house because it is now mine. This is not right and is not liberation but destruction."
The vice President said the killers are against and want to fail the government. 
"Let me tell you straight that most of these wizards who came here to destabilize the Kuku people in Kajo Keji do not even like or support Salva Kiir's government," he said. "That is why they are looking for different ways to fail those of Salva Kiir and Wani Igga and the government but we shall not let them and will pinch their noses when they raise them because we do not want chaos."
Wani said citizens should be treated with respect and love for the country to develop. 
"For this reason, President Kiir is tired of repeatedly hearing that people have been killed because of cattle in Magwi, Lobonok, Mogali, Lokiriri, Bor, and many other places. Even before the killings in Kajo Keji happened, the president was already annoyed and fed up with pastoralist and their cattle leaving their areas and going to cause mayhem in other areas," he revealed. "That is why President Kiir issued firm orders to his deputies, governors, and the armed forces that all the cattle driven to Central Equatoria and Eastern Equatoria states return to their places of origin."
"Indeed, there are now no cattle in Magwi, the Madi area, Lobonok, Lokirir, Liria, and up to Mangala and have all left and returned to their areas and the president's orders have been implemented," Wani said. 
The vice president condoled with the bereaved families and assured them of the government's commitment to evict cattle from Central Equatoria State.