Health fears as Juba chokes under garbage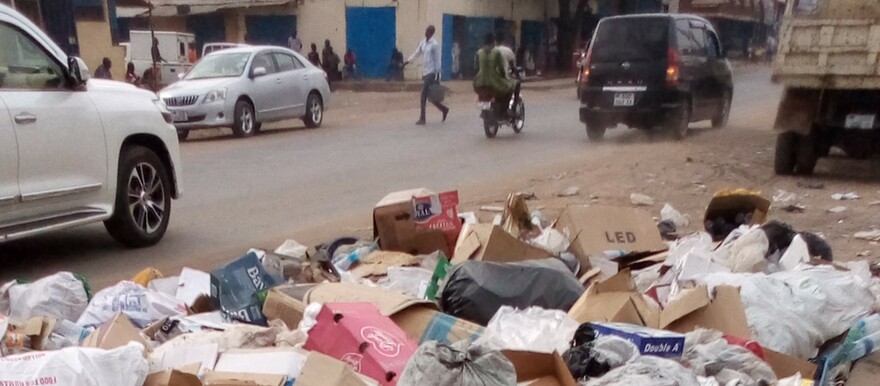 Residential areas and markets in the South Sudanese capital, Juba, are choking on uncollected garbage putting the health of citizens at risk.
A walk along a few city streets or neighbourhoods is proof that the city is choking on its own garbage.
Speaking to Radio Tamazuj on Wednesday, several city residents complained about the heaps of uncollected garbage in their neighbourhoods and public places. They said the Juba City Council had contracted a company to collect garbage in the town, hence has no excuse for the filth.
Last year, the Juba City Council signed a 10-year contract with East Africa Go Green Company to tackle the garbage collection problem and streamline waste disposal.
Mary Dawa, a tea seller at Suk Libya, said: "As for us, the tea sellers, what we see is that the city council just collects money, but when it comes to their role of garbage collection, their work is not good."
Dawa pointed out that the Juba City Council charges each trader 4,500 South Sudanese Pounds regardless of the business size. She called on the council to do its job.
Meanwhile, Sandra Chris, a resident of Gudele Block 9, said they do not know why garbage is not collected in the city. "Juba city is very dirty. Like if you walk in the streets of Juba you will see uncollected garbage everywhere," she said.
For her part, Elizabeth Ladu, the Director of Environment at the Juba City Council, dismissed the claims that the city council didn't collect garbage and said garbage is collected daily.
 "Garbage collection is conducted daily, but the charges are collected from the traders monthly," Ladu said.
Elizabeth, however, admitted that they face a shortage of garbage trucks, saying they resorted to hiring trucks from private companies.
In an attempt by the city council to streamline waste disposal, the city was divided into three zones to make it easier to manage waste.
"Juba city has been divided into three blocks, namely Juba, Kator and Munuki. East Africa Go Green Company handles Juba and Kator blocks, and Gumbo-Sherikat falls under Kator," she said.
"Munuki block, which also covers  Mia Saba and Gudele One, is still being cleaned by the council's department of environment," she added.
Elisabeth is also blaming the poor hygienic conditions in the neighbourhoods on the residents, saying most people in neighbourhoods end up dumping litter on the side of the roads.
She underscored that the Juba City Council is committed to make Juba clean.
East Africa Go Green Company could not immediately be reached for comment.