UGANDA/SUDAN -
16 Sep 2023
Sudan's Al-Burhan in Uganda to rally regional support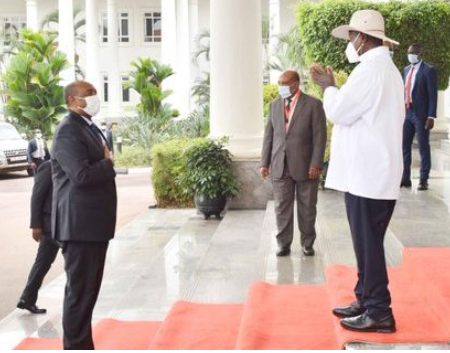 Gen. Al-Burhan being received by Ugandan President Yoweri Museveni in Entebbe during an earlier visit. (File photo)
The Chairman of Sudan's transitional Sovereign Council and Commander-in-Chief of the Sudan Armed Forces (SAF) on Saturday headed to Uganda on an official visit, a statement from the Sovereign Council said.
Gen. Abdel Fattah Al-Burhan will hold talks with Ugandan President Yoweri Museveni about ways to enhance bilateral relations and issues of mutual concern, according to the statement.
Al-Burhan is accompanied by acting Foreign Minister Ali Al-Sadiq and Director of the General Intelligence Service Ahmed Ibrahim Mufadel.
Sudan has been at war since fighting erupted in the capital between the regular army led by Burhan and the paramilitary Rapid Support Forces (RSF) commanded by his deputy-turned-rival Mohamed Hamdan Daglo.
Clashes around Khartoum's military headquarters, where Burhan had been holed up until last month, had seen a brief two-week respite before flaring again, with the RSF showering it with artillery fire, residents said.
This is Gen. Al-Burhan's sixth trip abroad since he made his first public ventures late last month, including visits to Egypt, South Sudan, and Turkey, among other countries.
The war has killed more than 4,000 people, according to August figures from the United Nations. However, the actual toll is almost certainly much higher, doctors and activists say.
According to the U.N. refugee agency, the number of internally displaced persons has nearly doubled since mid-April to reach at least 7.1 million people. Another 1.1 million are refugees in neighboring countries, according to figures released last week by the International Organization for Migration.
Chad received about 465,000 refugees, mainly from West Darfur province where the RSF and its Arab militias launched scorched-earth attacks on non-Arab tribes in the provincial capital of Geneina and its surrounding areas, according to the U.N. and rights groups.
The United States imposed sanctions Wednesday, Sept. 6, 2023, on RSF's Commander Abdelrahim Hamdan Dagalo for acts of violence and human rights abuses committed by his troops in the ongoing fighting.
Burhan has been Sudan's de facto leader since the ouster of longtime autocrat Omar al-Bashir in 2019 when he was appointed head of the Sovereign Council of military and civilian figures tasked with steering the transition to a fully-fledged democracy.