South Sudan prepares for papal visit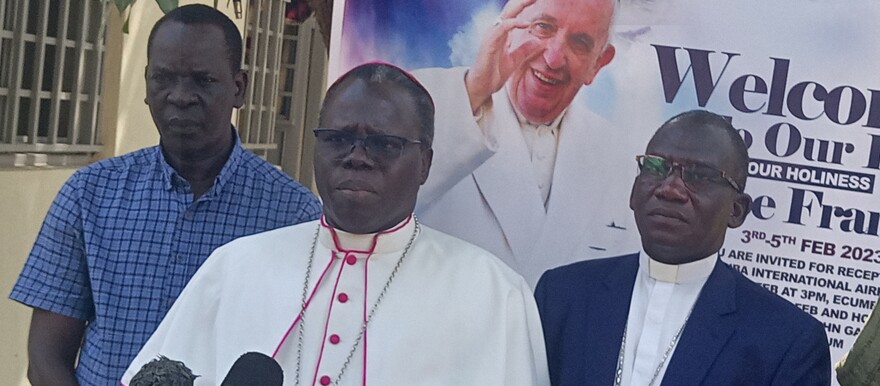 The Catholic Church of South Sudan said preparations are in high gear for the reception of Pope Francis in the capital Juba.
Pope Francis will travel first to the Democratic Republic of Congo capital of Kinshasa on Jan. 31, 2023, and then will visit South Sudan from Feb. 3 to 5, where he will be joined by the archbishop of Canterbury, Justin Welby, and the moderator of the Church of Scotland, Iain Greenshields. 
The historic ecumenical trip will mark the pope's third visit to sub-Saharan Africa.
Speaking to reporters at the Catholic Bishops' General Secretariat in Juba on Wednesday, the Archbishop of the Catholic Diocese of Juba, Stephen Ameyu Martin, said the committees formed on the coming of Pope Francis are well set to ensure successful reception of the Pope early next month.
"On behalf of the Bishops' Conference of South Sudan and Sudan, we are ready to receive the Holy Father in Juba. We thank the different committees for having been resilient in preparing for the coming of the Holy Father. We hope that his coming will enrich us all as a church but also as a nation," Bishop Ameyu said.
Ameyu urged the media to widely spread the message of the coming of the Pope, adding that the security is well set for his visit.
"I think through you, the media; we will reach all our people in the remotest parts of South Sudan. I hope that all of you will collaborate to take the message of the Holy Father to the end of the borders of South Sudan and to our neighbours," he said. "The security will be coordinated between the church committees and the national security and other protocols."
According to Bishop Ameyu, a total of 2,000 Internally Displaced Persons (IDPs) will be brought from various parts of the country to meet Pope Francis at Freedom Hall in Juba. He added that the Pope will also meet children and people living with disabilities at Freedom Hall.
For his part, Bishop Stephen Nyadho Ador of the Catholic Diocese of Malakal called on the people of South Sudan to prepare to receive Pope Francis next month.
"We call upon our people, the people of God in South Sudan to prepare themselves spiritually to receive the Holy Father and also to work hard so that this visit of the Holy Father together with the moderator of the Presbyterian Church and the Archbishop of Canterbury may be a point of transformation in our country," he said.