Security beefed up ahead of Pope's arrival tomorrow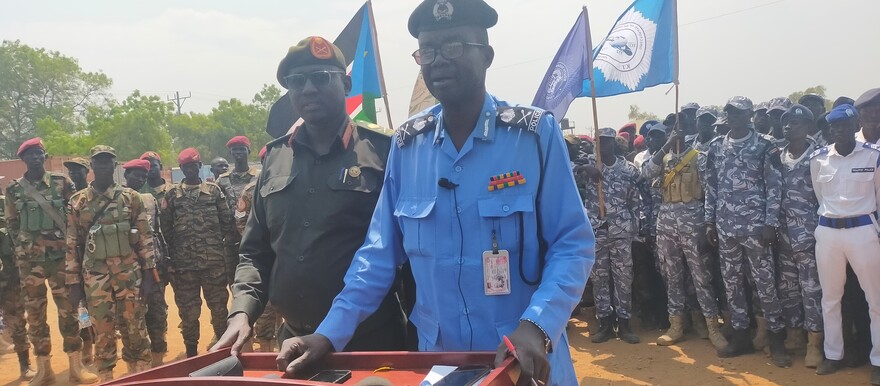 SSPDF Spokesperson Lul Ruai Koang (L) and Daniel Justin Spokesperson of the Police Service (R) addressing the media on security arrangement during Pope's visit on 01 February 2023. [Photo: Radio Tamazuj]
Security agencies in Juba, South Sudan, said Wednesday that joint forces of about 5,000 national security, police, and the army have been deployed in the capital ahead of the ecumenical visit of the Pope and other religious leaders on Friday. 
Addressing the joint forces at the Police Headquarters at Buluk, Lt. Gen Peter Mading, Assistant Inspector General of Police for Operation, called on the forces to be disciplined and smart during the ecumenical visit of the church leaders. 
He also warned the forces against drinking while on duty during the Pope's visit and appealed to Traffic Police Officers to stop harassing motorists and drivers. 
"There will be cameras all over the streets where the pope will be moving once you do something wrong on the road, the camera will show it to the whole world. This work is a service to the country, not a war," he said. 
Meanwhile, Maj. Gen. Lul Ruai Koang, the army spokesperson, assured the citizens and the world that they are ready to provide the necessary security.
"We are very much ready to provide extra security that is needed to facilitate the coming of the His Holiness the Pope. All the arrangements have been put in place, the joint security forces are ready," Lul said. "They will be deployed right away from the airport, the major roundabouts within the town and the places of worship will be given extra security and we made it crystal clear to our security forces to cooperate with everyone to ensure that this operation at the end of the day becomes a very successful one."
He called for cooperation between the organized forces and the security personnel deployed to protect civilians. 
"We would want to appeal to the members of the public that you should also cooperate with the security forces. If they are trying to search your vehicle, allow them to do the searches but you resist any illegal acts if have the right to resist and report any illegal act that is being carried out as long as it is a work that is meant to ensure your security please you cooperate with them," Lul noted.