President Salva Kiir's new official portrait unveiled by Machar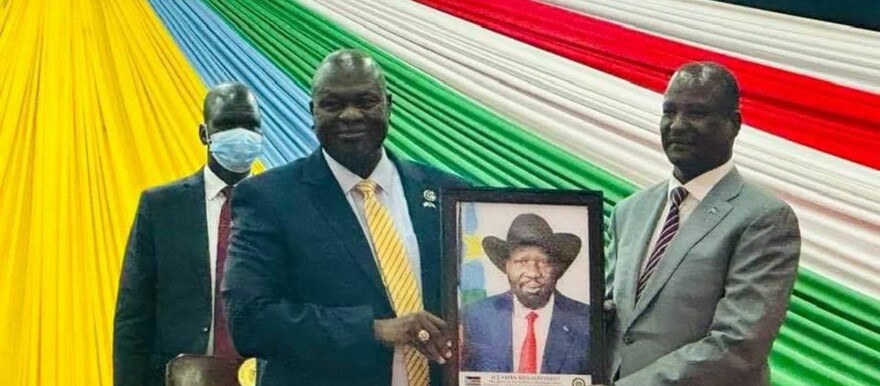 South Sudan's First Vice President Dr. Riek Machar Teny on Wednesday unveiled a new official portrait of President Salva Kiir Mayardit to be used in all public offices in the country.
The new portrait seen by Radio Tamazuj depicts President Salva Kiir donned in a blue suit, with a red tie and his trademark black hat and the South Sudan flag in the background.
Speaking during the ceremony to unveil the official portrait, Dr. Machar urged the members of the public and government officials to display it in all public offices.
"In our offices, whether the government offices or in the private sector, this is the portrait you are expected to display and I hope we have a supply chain for this portrait," he said. "I know there will be a rush for people who would want to have it in their shops and their offices and we have to prepare for it."
Meanwhile, Dr. Barnaba Marial Benjamin, the Minister of Presidential Affairs, said the new picture of the president also relates to his present age.
"Also, people have grown in age so the picture also must be related to the present situation people are in but most importantly, there must be consistency throughout the country," he said. "We should have one picture known in the whole country, regionally and internationally so that the rest of you as citizens are allowed to have a portrait of your president in your sitting room."
Minister Marial disclosed the change of the SPLA to SSPDF also appears in the presidential portrait.
"There have been changes in the titles since the days of struggle for our independence and now we have South Sudan People's Defense Forces (SSPDF) of which the President is the Commander-in-Chief and it has to appear in his portrait," he added.