Mass looting spree in Juba averted yesterday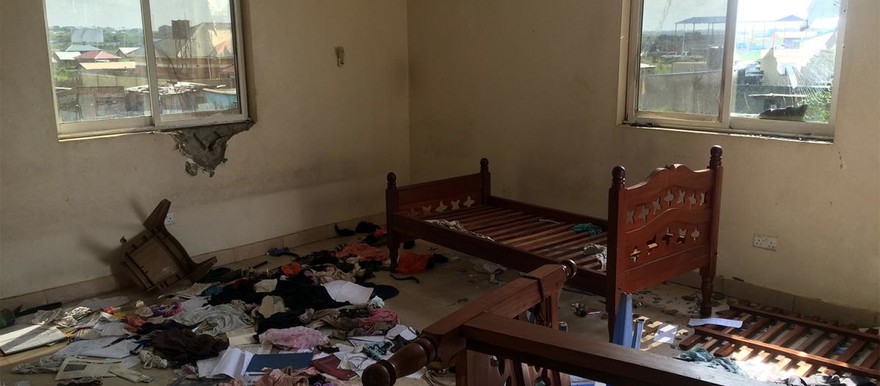 South Sudan's capital Juba narrowly avoided a mass looting spree yesterday after stampedes of panicked people fled markets and shut down shops amid widespread rumors in the city.
Officials believe that some of the rumors were spread deliberately in order to create opportunities for mass looting in the city, whilst others aimed to cause chaos and violence.
Salva Kiir speaking yesterday at a news conference said, "People were running away from their businesses. And by leaving your shops unguarded some people will get themselves there to loot, because this was the purpose of creating such a rumor, to scare people so that they run away (from their shops)."
"There are people who want this peace to break down so that we go back to war," he added.
Similarly, Interior Minister Michael Chiengiek Geay told press that rumors were spread by people who don't want businesses to go as normal and therefore wanted to create a problem so that they can loot people's shops.
"I would like to assure our people that the spreading rumors that there are fighting and clashes in the town are not true," he said.
From around 1:00 p.m. yesterday multiple sources in Juba started to report panic among civilians particularly in market areas. People in Custom Market were seen fleeing the market, one source said.
Another citizen, money exchanger John Bol, said he was in Konyo Konyo but arrived in Custom seeing people fleeing. "I do not know why the people are running. I have just come from Konyo Konyo but I just see people running. I do not know why," he said.
A woman who was working in Custom Market left her belongings and started running. She did not say why she was running
At around 2:00, James Moro who is in Gudele said in his area school children came home and markets were being deserted. He said he had gone for work in the morning but returned home to bring home children from school.
A boda-boda rider in the Jebel area said he abandoned his work and returned home. "I am already at home. If all the people are running then you to need to run," he said.
Citizens were confronted with rumors about the president's health, about his alleged death, and about the possibility of clashes or rebel forces marching on Juba, amid higher than normal inter-communal tensions in Central Equatoria.
The interior minister says he posted plainclothes CID officers in the markets to make sure nothing happened to people's businesses. In the meantime, however, some soldiers, other organized forces and civil servants in Juba have gone unpaid for a long time or have seen the inflation cut into their earnings.
Last July there was organized looting of the country's largest food warehouse, run by the World Food Programme. Soldiers also looted the Terrain hotel, some other places in the Jebel, Gudele, Munuki and Tongping neighborhoods, the first vice president's house and elsewhere.
Looting has been a consistent part of the conflict in South Sudan starting in Juba in December 2013 and again in Juba in July 2016. Pibor town was looted earlier this year, Raja was looted this year, markets in Wau were looted this year and cities Bentiu and Malakal were repeatedly looted earlier in the war.
Photo: A room looted in a house in Munuki in July 2016 (HRW)