Kiir downplays tensions in Juba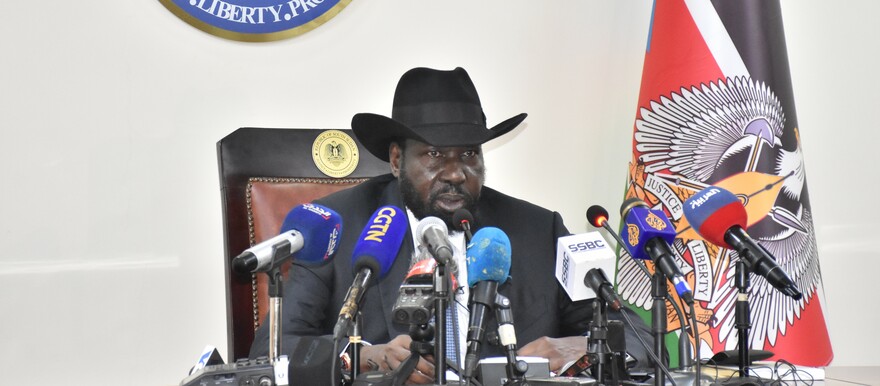 South Sudanese President Salva Kiir addresses reporters on the security situation in Juba on Monday, 28 March 2022. (Radio Tamazuj)
South Sudan's president has downplayed reports of security tensions in Juba as his group and army generals aligned with First Vice President Riek Machar disagree on how to implement security arrangements as stipulated in the 2018 peace deal.
 Tensions were high in South Sudan's capital on Sunday after President Salva Kiir sent troops to surround the home of first vice president Riek Machar.
"Without prior information, the SSPDF [South Sudan People's Defense Forces] deployed armed forces with armoured personnel carriers on the routes to my residence. Persons who attempted to go to the residence were turned off by these troops. The deployment was removed only at 6.15 am this morning [Monday] with no explanation provided," Machar said in a statement seen by Radio Tamazuj.
He pointed out that the South Sudan People Defense Forces (SSPDF) deployment undermines peace in the country.
Last week, SPLM/A-IO, led by Dr. Machar, pulled out of peace monitoring mechanisms in Juba to protest continued "unprovoked" attacks on its positions by SSPDF in Upper Nile and Unity states. 
Both sides accused each other of starting the attacks.
Speaking to reporters at a press conference in Juba on Monday, President Salva Kiir downplayed the deployment of troops to surround Machar's house, saying it was a normal security routine.
 "In Juba here, there are criminals that have mixed up with residents. And these people may go and open fire near Riek Machar's house...if we hear the sound of a gun; it might look like it is Riek attacking us. So, the presence of forces on the road doesn't mean that there is insecurity in Juba," said Kiir.
According to the South Sudanese leader, his forces did not declare war against Machar's SPLA-IO forces, saying the recent statement by SSPDF spokesperson Lul Ruai Koang that the military has declared war on SPLA-IO forces was a personal statement.
When asked about the challenges facing the implementation of the 2018 peace agreement, President Kiir said: "Well, there is no obstacle that cannot be resolved. Any obstacle on the way, you must resolve it before you proceed. If there is dialogue, all the obstacles can be resolved."
The president underscored that the implementation of the peace agreement is on track, saying the peace partners consider the agreement as the path to stability in South Sudan.
The 2018 peace agreement brought Kiir and Machar together in a government of national unity.
But challenges remain, including the unity government's failure to unify the army.
A group of United Nations experts warned in a report last year that "the stability of South Sudan has remained at risk" as a result of missed deadlines and disagreements on key issues.