Juba mayor warns against protests over soaring market prices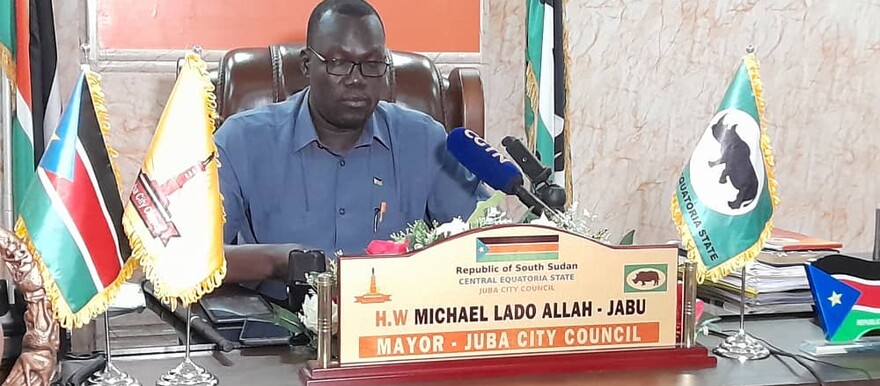 Mayor of Juba City, His Worship Michael Lado Alla-Jabu. [Photo: Radio Tamazuj]
The Mayor of Juba City, His Worship Michael Lado Alla-Jabu has warned all Juba residents to refrain from joining any protest over the high cost of living in the country. 
The remarks came barely two days after a protest on high commodity prices in Juba Konyo Konyo Market on Sunday. 
During the Sunday protest, dozens of those who protested were arrested including a journalist who works for the Voice of America.
"The authorities of Juba City Council warn the citizens of Juba city to abstain and cease from the following; conducting any sort of unfounded protest in any market in Juba City is not permissible; secondly to stop joining any sort of demonstration that may cause you problem as you may not know the implication and the motive behind. Thirdly, to stop and cease carrying any unfounded message of hate and misleading information to create public disorder and insecurity in the city," Allah-Jabu said.
He added, "Fourthly if there are any issues of concern let it be communicated and expressed officially by our representatives of the three houses of national and state assemblies as well as the local legislative assembly. Fifth, any peaceful protest shall be coordinated and approved by relevant authorities, otherwise, you will be faced with legal charges according to the law."
Mayor Allah-Jabu also warned traders against hiking prices even when the dollar rate against the South Sudanese Pound is dropping, saying they will follow up on commodity prices in the market.
"We will ensure that all the traders in the market refrain and comply with the exchange rate and the drop from inflation. We will continue to follow that to ensure that prices come down in relation to the decrease in inflation as our government is going to work on," he noted. 
He called on the residents of Juba to exercise patience as the city council works to normalize market prices, claiming that the prices in Juba and Konyo-Konyo markets are stabilized. 
This week, the $100 rate against South Sudanese pounds is 58,000 SSP dropping from its initial rate of 72,000SSP against $100. However, the prices of basic food commodities including fuel and transport have remained the same.