South Sudan Cup updates: Bentiu's Al-Merrikh beats Torit Young Stars 3:2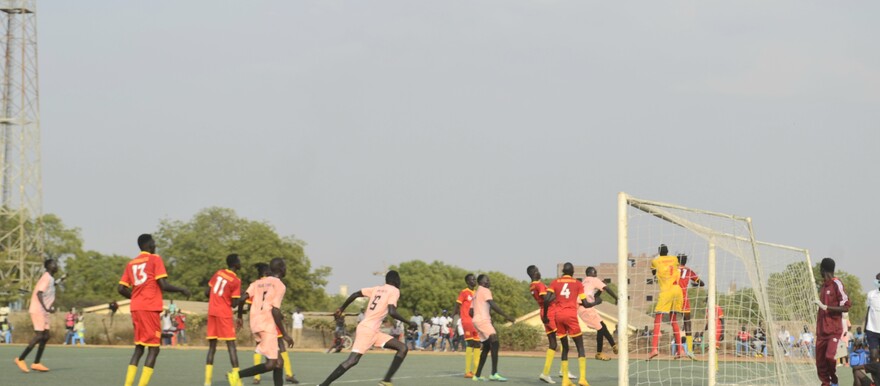 Bentiu's Al Merrikh FC face off Torit's Young Starts FC at Buluk Stadium on 25 January 2023. [Photo: Radio Tamazuj]
Unity State's Al Merrikh football team on Wednesday beat Eastern Equatoria's Young Starts football team in the first round of the ongoing South Sudan Cup tournaments at Buluk Stadium in Juba. 
The two teams meet again in the return match on Sunday at Buluk Stadium, to determine the winners for the second round.
The winning team will face the winner between Terekeka's Al-Wehda FC and Nimule's Nile Eagle FC.
In a statement to Radio Tamazuj, James Mao, Al Merreikh's coach, praised the performance of the two teams in the match, saying his boys did well despite playing a tough team. 
For his part, Young Stars coach Simon Onen also acknowledged that the game was tough but blamed their loss to modern playgrounds and poor quality shoes worn by his team members. 
He promised that the team will do better in subsequent matches saying they are getting used to the pitches. 
Bor's Salam FC beats Yei's Atlabara FC
Jonglei State's Salam FC on Wednesday beat Yei's Atlabara FC two-nil on Wednesday in the first round of the ongoing South Sudan Cup tournament. 
The two teams will lock horns again on Saturday at the Buluk Stadium in Juba to determine which team will advance to the second round. 
The winner of the Saturday match will confront the winner of Juba's Al-Merreikh FC-Yambio Star FC match. 
Michael Agok, a player of Salam FC, said he was happy for the team and that his teammates did their best. 
Speaking to Radio Tamazuj, Francis Sebit, the coach of Atlabara FC said he was satisfied with his team's performance but pointed out that they missed out on many opportunities to score goals. 
He was optimistic that his team will perform better in the upcoming game.
Meanwhile, Juba's Al-Merrikh FC beat Yambio's Star FC three-nil on Tuesday.
21 teams are partcipating in the South Sudan Cup tournament. The teams are divided into three groups of nine each to be hosted in Rumbek, Juba and Malakal respectively.
The games will continue until 20th of February 2023.