Kenya promises fair economic policies to boost trade with South Sudan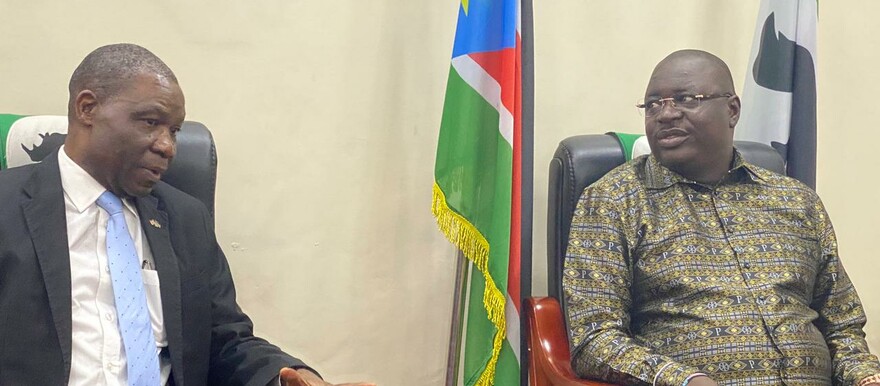 Kenyan Ambassador to South Sudan Maj. Gen. Samuel Nandwa (L) and Central Equatoria State Governor Emmanuel Adil Anthony (R) meeting in Juba on 26 January 2023. [Photo: Radio Tamazuj]
The Kenyan Ambassador to South Sudan Maj. Gen. Samuel Nandwa says Kenya is ready to ensure effective clearance of goods coming to South Sudan through Kenya. 
Ambassador Nandwa made the remarks while meeting the governor of Central Equatoria State, Emmanuel Adil Anthony in Juba on Thursday. 
"In terms of clearance of goods, it is optional. You could clear in Mombasa, Naivasha, or Nairobi. But we think that if goods are gotten in Eldoret, and then through Lokichokio, Kapoeta, Torit, I think the goods in South Sudan will be cheaper, especially those that are manufactured in Kenya," he stated.
For his part, Governor Emmanuel Adil Anthony assured safety for the Kenyan businesses operating in South Sudan and in particular Central Equatoria State.
"I assure you of our support to make sure the Kenyan people in South Sudan have an open foreign policy. For Africans, we are brothers and sisters, and more so Kenya and South Sudan have very close ties. They stood with the people of South Sudan during the difficult days and are the gateway to East Africa," said governor Adil. 
He added: "For us to co-exist the Kenyan businesses that are here will be protected, and the Kenyan businessmen and women will be protected and that is the interest of the government of South Sudan."