Woman dies as a plane skids off runway in Ulang County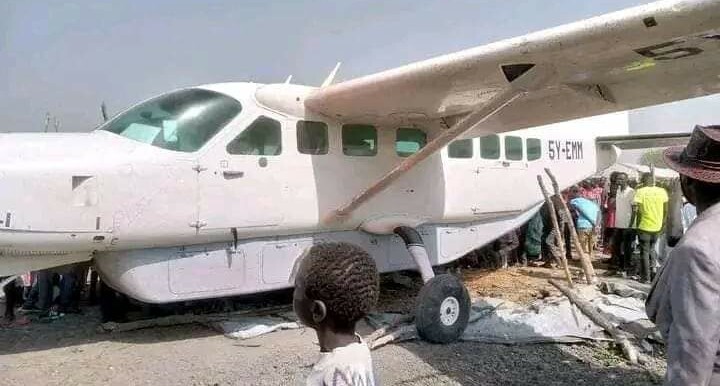 Passenger aircraft slides off Ulang County airstrip on 08 February 2023. (Courtesy photo)
A small passenger aircraft slid off the runway after landing at an airstrip in Ulang County of Upper Nile State on Wednesday, killing a woman as it hit a nearby building, officials said. 
Kuot John Akech, the director of Juba International Airport (JIA), told Radio Tamazuj Thursday that the 12-passenger caravan aircraft, with four people including two crew members onboard, was delivering primary school examination papers to Ulang town when the incident occurred on Wednesday morning. 
"What happened was that after the plane touched down on the runway, the pilot realized that there was a person in the front so he had to slide off the runway to avoid knocking the person," Kuot explained. "So, as a result, the plane ended up running into a home nearby, killing an old woman who was inside a room." 
The airport official said all four people onboard the aircraft were safe and called for calm.
 
Ulang County commissioner, Riek Gai Gatluak, and the state information minister, Sadhalla Luk Deng, also confirmed the incident. 
"The incident happened yesterday at 9 am. After the plane landed, it run into a home, destroying four houses and killing an old woman who was in one of the houses. Four other people, including a boy, are in critical condition at a hospital nursing wounds," Commissioner Riek Gai said. 
"Four people who were on board are safe and we transported them to Mandeng where they would be airlifted to Juba," he added.  
Plane accidents have become commonplace in South Sudan.
Just last month, a cargo plane crashed in the Referendum suburb in Juba City shortly after taking off from Juba International Airport (JIA) but all five people onboard survived.   
In August 2020, eight people lost their lives, while a single passenger survived with injuries when a cargo plane crashed into a farm in the Kemeru area minutes after it took off from JIA.
19 people were killed in 2018 when a small aircraft carrying passengers from Juba to Yirol crashed.
In 2017, 37 people miraculously survived after their plane hit a fire truck on a runway in Wau before bursting into flames.
In 2015, 36 people were killed when a Soviet-era Antonov plane crashed just after takeoff in Juba.