Victims of Juba displaced peoples' camp clashes lack food, shelter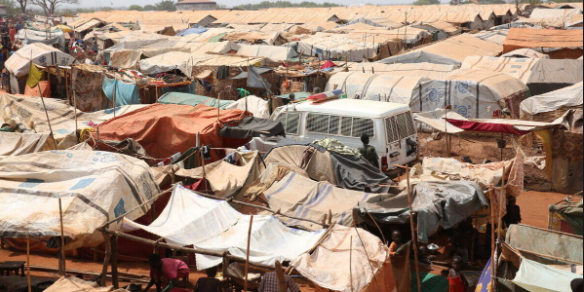 An IDP camp in Juba. (Photo: UN)
Hundreds of people who fled their homes after recent clashes in the Mahad displaced peoples' camp in South Sudan's capital, Juba, lack food and shelter, local officials said.
Last week, a man was killed, scores injured and several houses torched in clashes involving members of the Murle and Anyuak communities in the camp.
John Opiew Olok, the head of the Anyuak community in Juba, told Radio Tamazuj that the displaced people are in a dire humanitarian situation because they fled their homes without food.
"After the clashes, the camp was evacuated the following day by members of my (Anyuak) community. Some have been integrated into the community in Juba and others with no relatives went to Gorom Refugee Camp," Opiew said. "We estimate that about 400 households have been affected."
The community leader called on the government and aid agencies to come to the aid of the displaced persons.
"Our appeal is for the government and aid agencies to intervene by resettling the displaced people to a safe location and provide them food," he appealed. "Those willing to go to their original homes should be transported back there because all their belongings were looted and they cannot access the camp."
For his part, Mayen Kur Kuer, the camp's chairperson, also called for humanitarian intervention, saying the displaced are helpless.
"The humanitarian situation is dire because we have nothing. The Anyuak do not have any presence in the camp. Some of them are in their relatives' houses within Juba but the majority went to Gorom," Kur said. "The Dinka Bor voluntarily relocated to Juba 2 area because the Juba city mayor also wants the camp emptied in a week. As the displaced, we do not have food and shelter."
The Mahad camp for displaced people is located in Juba's Konyokonyo suburb and was home to about 7,500 who fled their homes in parts of Jonglei State following the December 2013 war.